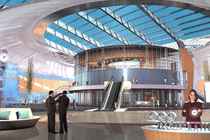 The agency wants to bring live experiences online to a worldwide audience, using virtual 3D spaces designed by Emmy-Award winning Flash Environments. The platform can also be integrated into social media networks such as Twitter, Facebook and LinkedIn.

Jack Morton Worldwide recently hired Chris Haff as its director of technology solutions and head of its digital studio. He will oversee the project.

"In the fall of 2008 virtual events became newly urgent following months of shrinking travel budgets," he said. "We felt we had a responsibility to build our own platform, one that allows for easy customisation and on-brand experience design for our clients."

Haff said the events would have to be lively and interactive to avoid the potential mundanity of sitting by a computer screen.
To leave a comment register and let us know your thoughts.