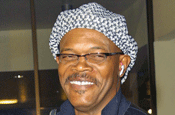 He will replace Uma Thurman, who starred in the TV campaign that launched the company in February 2007.
Rapier is currently working on a series of 30- and 40-second TV ads to air in April. Directed by Jonas Akerlund, Jackson will promote Virgin's video-on-demand and broadband services.
James Kydd, Virgin Media's managing director of brand and marketing, said: "We are extremely excited about working with Samuel, as he has such massive appeal with old and young alike."