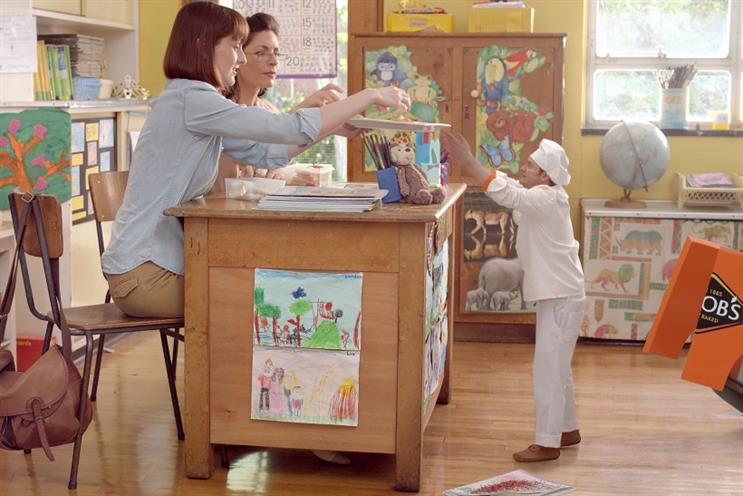 Speaking to Marketing, United Biscuit's director of savoury brands Ted Linehan reveals why the business has ratcheted up marketing spend by 40% since 2013 and lifts the lid on his drive to ramp up Jacobs' brand equity.
Sitting in a restaurant in central London, Ted Linehan apologises for his more casual than usual attire. He can hardly be blamed. He's about to jet off abroad to film a new TV ad for Jacob's, squeezing in two meetings beforehand as part of a hectic schedule aimed at growing the portfolio "a hair under 10%" year on year and by £50m within three years.
Since taking over the reins as head of United Biscuits £193m savoury snacks portfolio in 2013, Linehan has been busy overhauling every brand in the portfolio (excluding the more premium positioned Carr's) to pull them under the Jacob's branding.
Savoury was a part of the business that was virgin territory
Mini Cheddars, Crinklys, Oddities, Cheeselets and Twiglets have all been pulled under new master Jacob's branding with new packaging to modernise and rejuvenate the 125-year-old brand and create greater synergy. The business, he says, spent an "extraordinary" amount of money on redesign.
"When I came into United Biscuit's Martin Glenn called me up and said – [savoury] is about a quarter of the business and I need you to deliver half the growth," he says. Savoury is currently worth around 28% of the business but it delivered 68% of United Biscuits' branded growth in 2014 with the likes of Mini Cheddars and Crinkleys growing apace. The strategy is to use savoury brands as a business accelerant.
"Coming in it was a part of the business that was really virgin territory," he says. "I'm not saying nothing had been done on it but there was certainly a lot of work we needed to do to find out where we wanted to take it."
Accelerating marketing investment
Breaking the portfolio into two segments – 'toppable' and 'snackable' biscuits – Linehan identified that by turning Jacob's into an overarching masterbrand United Biscuits could create more unity. It is ploughing more spend into growing the individual brands, creating the first ever brand character in the form of miniature baker, Jacob, to tie them all together in the mind of the consumer.
"We're certainly ratcheting up our marketing investment in savoury as you would expect with the fastest growing part of our business.
I've formed a very firm belief that if you want to be successful selling impulse foods, the first marketing dollars you should spend are in store
"We'll spend about 20% more this year than we spent last year - and last year we spent about 20% more than we did the year before. What we're seeing is a return for that money.
"If I go back to 2013 there had been a significant increase in spend for savoury - but we hadn't really got anything for it," he admits.
To combat this, in April 2014 it kicked off a £10m 'snack happy' marketing push for the brand.
The campaign, featuring the character Jacob, marked a step change in brand communications. Previously, the degree to which previous Jacob's marketing campaigns had been disjointed meant with every campaign the brand was going back to square one. The character brought the brand values to life.
"I could show you the Jacob's historical reel and you just wouldn't believe it," he says, adding that historically there had been an absence of consistency in brand strategy. He stops short of saying the brands were neglected but says there had been a lack of focus.
Ramping up NPD
As well as a fresh approach to its marketing, United Biscuits has also been investing in NPD. It launched Crispbreads and Flatbreads last year to tap into the fact that many consumers who shop the category are looking for alternatives to breads.
Jacob's has a "significant share underdevelopment at lunchtime", but the plan is to grow share of the market "really hard". Jacob's Flatbreads are currently the fastest growing in the market, according to United Biscuits data, with the highest repeat purchase rates in the segment and Linehan wants to build on this.
As testemant to that ambition, United Biscuit's next ad campaign will focus on Jacob's Crispbreads and Flatbreads, heroing them as lunchtime alternatives. Airing from 11th May until 27th June, the campaign will be supported by a £2.5 million TV, digital, PR and shopper marketing investment.
The trendy thing to talk about it digital but I've increased our investment in shopper marketing and in-store way more than I've increased investment in digital
"The role I see for savoury is as the growth accelerant [and] an opportunity to improve our margins. Biscuits are a notoriously lower margin category – it's not unattractive – but we've got a real balance between sweet and savoury and the opportunity to improve our margins."
The bulk of spend is being ploughed not just into TV, but also into shopper insights and in-store execution.
Linehan has increased spend in shopper insight tenfold from what he describes as a "negligible" sum. He is also plunging a greater stake of the overall budget towards in-store marketing than he is in digital, in a bid to stengthen the brand fundamentals.
"We're very focused on getting presence in store," he says. "I've formed a very firm belief that if you want to be successful selling impulse foods, the first marketing dollars you should spend are in store."
"I know the trendy thing to talk about is digital but I've increased our investment in shopper marketing and in-store marketing way more than I've increased our investment in digital. [It's] not because I think digital is unimportant, but because when you're in the impulse game then making sure you hit all the right notes as close to purchase as possible is critical."
A brand finding its feet on social media
The brand is still, he admits, finding its feet in social media, yet 15% of its budget is allocated to digital, which to date has been used predominantly to amplify TV ads.
"We're working to make it easier for people to see content. And of course we'd love them to share it – but it's just tough to get people to share stuff about Jacobs Cream Crackers or whatever, it's not the most shareable thing ever I've come across," he adds.
"We're trying to figure out what's the right role for social media in our marketing mix on a test and learn basis."
The business also lost CEO and celebrated former marketer Martin Glenn to the Football Association earlier this month, with Jeff Van-Der-Eems taking the top UK job. But Linehan is quick to point out that the business is not about to take its foot off the gas.
New owner Yildiz, which bought the company in November has ambitious expansion plans. And with Van-Der-Eems is, he assures, a "huge supporter" of the marketing agenda, the company's commitment to brand growth is not about to slow any time soon.
---
Recommended