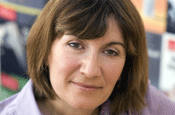 Kean's departure follows that of marketing and strategy director Matthew Batstone as part of changes made by new Economist chief executive Andrew Rashbass.

Kean, who oversaw The Economist's advertising and other brand activity including its relationship with its agency Abbott Mead Vickers BBDO, is leaving after eight years in the job.

Responsibility for The Economist brand will pass to brand managers of four regional divisions created by Rashbass to cover Economist operations in UK, continental Europe, Middle East and Africa, Americas and Asia.

During her time at The Economist Kean helped to evolve the famous "white out of red" advertising created by AMV culminating in a spring campaign this year that continued to use the white copy but on a black background alongside illustrations.