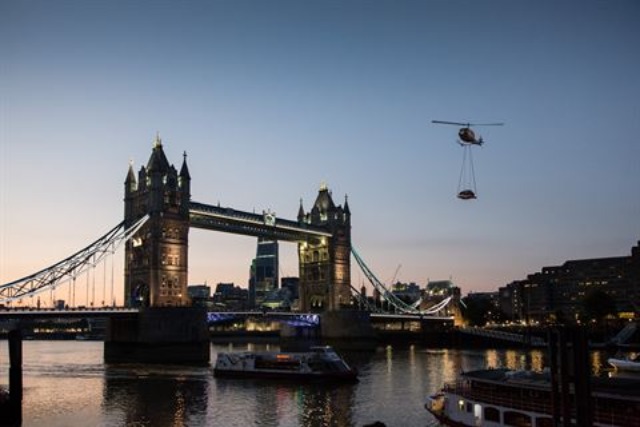 The car manufacturer has been heavily promoting the new model since it signed actor Idris Elba, designer Stella McCartney and singer-songwriter Emeli Sandé in July to promote the launch.
In the run up to the event, which included performances from the Kaiser Chiefs and Sande, the Jaguar XE was suspended from a helicopter over central London, before being shipped across the Thames on a speed boat. The launch is rumoured to have cost £4m. Group marketing director Phil Popham told the Sunday Times: "This is a big offensive for us."
The XE, which Jaguar Land Rover claims "redefines the concept of the sports saloon", goes on sale in 2015. It is priced from £27,000, pitting the car against other brands including BMW, in a bid to broaden the appeal of Jaguar and build on 16% year-on-year sales growth for the brand.
Describing it as a "true driver's car", Jaguar said the model had been designed to "stand apart in the crowd".
"Our mission was to create an exciting and dynamic design clearly reflecting the XE's positioning as a serious driver's car," said Ian Callum, Jaguar director of design
In attendance at last night's launch were a flurry of celebrities, including Chelsea Football Club Jose Mourinho and the Kaiser Chiefs, with Sande performing an exclusive song for Jaguar, which had been developed with fans as part of the launch campaign.
In the run up to the event, Jaguar had encouraged consumers to use the hashtag #FeelXE to share what exhilarates them using words, pictures, sounds and films via Twitter, Facebook ,YouTube and Instagram. The campaign was designed to ramp up the car's "exhilaration" brand identity.
Earlier this month, Ian Armstrong, global marketing communications director for Jaguar said the manufacturer was working hard to change people's perspective. "They think we're a little cooler than we used to be", he said.