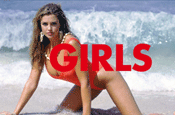 The ad explains the history of what man was interested in, namely; sport, girls and funny stuff.
However the voiceover then explains that men started to loose their way by "doing yoga, drinking herbal tea, using moisturizer, using a wheelie case and being considerate in bed."
The commercial concludes by pointing out that the Daily Sport has re-instated the more simplistic male desires of sport, girls and funny stuff in the magazine style publication.
The campaign ends with the Sport's equally blokish strapline: "Get in," and is due to break on the 21st April.
Project name:
Daily Sport relaunch
Client:
(name and job title of client) Sport Media Group
Brief:
Communicate the relaunch of the Daily and Sunday Sport newspapers, highlighting the mix of news, sport, humour and glamour in a magazine style format, creating a new daily print experience called a 'newzine'.
Creative agency:
Jam Creative Ltd
Copywriter:
Steve Qua
Art director:
Steve Qua
Planner:
N/A
Media agency:
MediaCom North
Media planner:
Chris Catton
Production company:
Jam Creative Ltd
Director:
Steve Qua
Editor:
Steve Qua
Post-production:
Smoke and Mirrors
Audio post-production:
Marmalade
Exposure:
21st April - 11th May