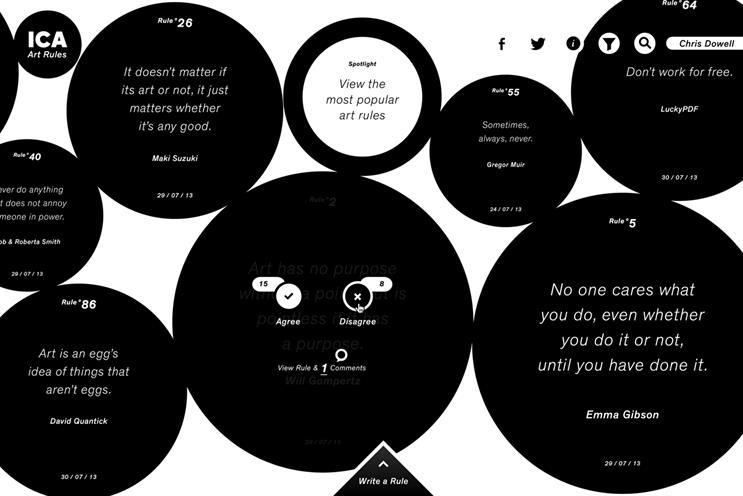 Tell us about this project. Without art, the world would be a boring place. Institutions such as the ICA that challenge traditional views and support radical art and culture keep things interesting.
"Art rules" is a global platform and social space where people from different walks of life can share their views, converse and debate the definition of contemporary art.
By contributing their own "rules", and by supporting or challenging the rules authored by others, "art rules" provokes and challenges the established order of art – in a visual and connected experience that is a world apart from the physical confines of galleries and dealers.
What do you think art is? In my view, art is the purest form of a creative expression. On the other hand, Victoria O'Callaghan says "My art is what happens when I stop striving, dive in and let mistakes take over", Chris Sebestik reckons "Art is a lifestyle, not a job" and Bob and Roberta Smith advises "Never do anything that does not annoy someone in power". These, and hundreds of other answers to the same question, are bringing the debate alive at artrules.ica.org.uk.
Who is your favourite contemporary artist? I can't single one out – there are far too many great artists expressing themselves in their own unique way through a multitude of media. My favourites are in visual arts, interactive and music, as they engage with me on another level where there is space for interpretation, imagination and further creativity.
How does art impact on your everyday job? Art has had a huge impact on society and, arguably, without art, we wouldn't have the creative or design industries. Art inspires, evokes memories, sparks reactions, stirs up imagination and makes us all creative in some way, shape or form, so it's pretty critical for my everyday job.
What art do you create outside of work? It used to be music. Back in Hong Kong when I was younger, I spent a lot of time playing the piano without any score sheets, having the freedom to create my own music spontaneously.
Then, during my art and design foundation course, I fell in love with dark-room photography. I practised it a lot during that year and now, with the ease, speed and potential of digital SLR cameras, or even a mobile phone, they have rewritten what photographic art I can create on a daily basis.