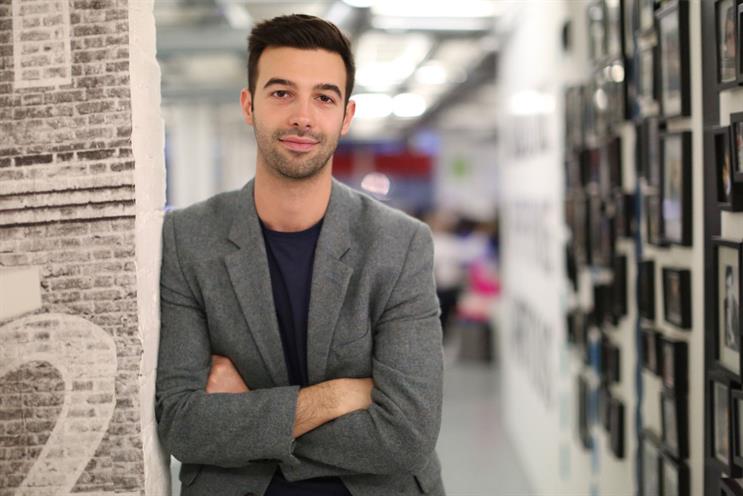 Campaign meets James Connelly the morning after we revealed that he had sold Fetch, his mobile marketing agency, to Dentsu Aegis Network for an estimated £30 million. Perched on a sofa in the attic of Soho House, he looks relaxed enough – but appearances can be deceptive.
"Where did you get that £30 million figure from?" he blurts out, with the intensity of someone who has waited all night to ask the question. "It's just, there is no number," he continues. "It all depends on performance."
From a standing start five years ago, Fetch reported revenue of £35 million in 2013.
This year, staff numbers have doubled to more than 70 and the agency is forecast to surpass turnover of $100 million (£63 million). Mobile is the fastest-growing advertising sector in the world right now, and potential figures surrounding the deal have been circulating in the City.
Explaining our rationale, Campaign admits that it was, nonetheless, a guesstimate. Were we really that far from the mark?
"Well, it's gone around the world now," Connelly says, eyes firmly locked. But then he softens. "I did have a mini heart attack when I saw it, but Dentsu were OK… and, yes, to be honest, it's a pretty good guesstimate," he adds, smiling.
The remaining time is spent hearing an uplifting story about how a 28-year-old from Purley without a university education just became a multimillionaire-in-waiting.
But first, let's get those awkward financials out of the way and hope we don't bump into him again in the near future. Connelly co-founded Fetch in 2009 with Declan Reddington, who also formed the digital agency AdConnection.
During the first three years, they picked up a couple of investors of note – Steve Leach, the founder of Bigmouth­media, and the former i-level chief executive turned angel investor Andrew Walmsley – but are believed to have maintained at least 80 per cent of the business.
Following the deal with Dentsu Aegis Network, Reddington and Walmsley realised their shares immediately. Connelly is believed to now own about 40 per cent, which stands to make him a very wealthy thirtysomething – if all goes according to plan.
'I thought this is really interesting...I was speaking to people and realised nobody really gets mobile like I do'
What was your first job?
I didn't do very well at school but I was well into my sport. I was captain of cricket at school. I was a bowler. I left at 18 to work at IPC Media selling 3x1s at the back of TV Times. I thought I was the boy – it was great. I had just about scraped through enough A-levels to get into university but took a year out. I had always wanted to set up a business.
What inspired Fetch?
When I was 20/21, I moved to Sydney with [the mobile company] Consumer First. I hadn't been to university and needed to go outside my comfort zone. I lived on Bondi Beach for a year. It was a great experience but I was young and did miss home.
When I came back, I was trying to think of a business. I was talking to vendors and telling them I was a mobile agency in order to get the agency discounts. Then, I thought this is really interesting because I was speaking to people and realised nobody really gets mobile like I do.
Mobile is actually going to be the most important platform, if it's not already, and it makes sense to use an expert.
That's why when you read earnings report about who's nailing it in mobile already, it's companies like [Fetch clients] Expedia, eBay and hotels.com. They realise the value in using experts to move the needle on their business, and that's what we do. We deliver positive change by mobile. Anyone can be a specialist, but we're experts.
How significant was 2007's Apple iPhone launch?
I remember seeing it [the first iPhone] on the front cover of Stuff and I thought: if that really comes out, it's going to be amazing. I had one shipped over from the US and just loved it.
Mobile and the shift in how people connect to the internet has completely changed everything. We're getting to a post-PC era and the technology's different.
The whole internet advertising world on desktop is based on cookies and the reality is that they don't really work very well in mobile. User behaviour is different on mobile, and you've got this whole app world.
Do you worry that the app economy has peaked, with evidence that users are increasingly using only a handful of uber apps?
There is consolidation in the app world from a consumer perspective. And it's becoming harder for businesses to pop up and expect to get loads of downloads of their apps. But the app economy is still booming and we'll never see a day, at least in the next ten years, where we won't all be using apps.
I think it will grow out of mobile. Apps are going to get bigger, and we're all going to get used to using more applications in our lives. The likes of Google Glass or Cardboard, all are based on operating systems with apps. It's a technology that makes sense.
What was a key turning point for the agency?
I was sharing an office with AdConnection, cold-calling people from a copy of ALF. I remember the first campaign was £3,000 from a Scottish mobile content company – we made £500 from that.
Later that year, I landed a meeting with John Leahy, who was the marketing director of Polydor. I knew the importance of it and it resulted in a project worth £20,000 to promote Eminem and Rihanna's new album and buy it from mobiles. It was a game-changer. Later, Leahy left Polydor and came to help us in an advisory capacity, introducing us to music contacts. We soon had a niche in music.
How did you hook up with Andrew Walmsley?
I always hugely respected I-Level, and Andrew's actually been my mentor. He's been really good. We got in touch via LinkedIn. We were wet behind the ears and he gave us a lot of guidance and was a proper advisor.
What is Fetch's core offering?
We do four things: Strategy, going into any type of business and helping them to understand mobile; creative – about advertising and video, and then media, which is the biggest part of our business – where we're planning and buying mobile advertising campaigns in 99 countries at scale; and analytics, where we can properly track people and optimise campaigns to boost efficiency.
How does mobile planning and buying differ to desktop?

It's evolving. We talk about targeting people not audiences. It's all about the optimisation and moving the campaign. There's an argument to say it's somewhere between media planning and trading. We're quite analytical, we're quite data-led, we're technology savvy as a culture.
Fast-forward to today, what is guiding expansion plans?
We opened our first US office in San Francisco in 2012 to help service Hotels.com. We now have 30 people out there – we're flying. The US as a P&L is the biggest part of our business.
When we open an office, it's part strategic and part opportunistic. We want to go there for a client reason and a market reason and combine it. If someone says you should go to Brazil because it's a growing market… well, not unless there's a client really wanting us to go there.
Internationally we've already got a footprint in the areas we really want to be so now it's about growing those. There's still a lot of room for growth in North America, with plans for New York launch in Q1 next year.
What does Dentsu Aegis bring to the table?

Asia's really important to our business. We're based in Hong Kong at the moment. Dentsu' operating model is unique, they believe in experts and are already talking about how we fit into that. Other people who were talking to us wanted to fold us into other agencies, and I thought that's not for us.
What are the ambitions for the next 12 months?
Well, I've got to figure out this world of being in a group, but we're going to stay in the [east London, Shoreditch] Tea Building. We'll do some joint work and integrate some services. What they (Dentsu Aegis] are doing in the programmatic space is really interesting too. We want to start doing new work, we want to get more into brand work. We're going to be investing a bit next year in people and tech and space.
Where are you hiring people from?

We like agency people, because thet get it quickly, We like digital people. We have a programme that gets people to mobile quickly. We work around three key attributes: ambitious, inspiring, inquisitive. We talk of being "measurably daring" – the phrase is purposeful, we feel that it's really important to push the boundaries and be daring. Do something different.
So, you left school aged 18 and never went back to tertiary educaton, would you be able to get a job in Fetch now? Are you leaving the door open enough for people like yourself?
Ha, it's a very interesting question. The truth is a degree education in itself is very boring. But when I get CVs from Oxford, Cambridge and Durham they do tend to be super bright people. We've had a lot of people from those universities from our graduate intake... To be honest, we don't want to hire people like me. I would not be a good employee.
Why wouldn't you want to hire yourself?
I always knew I wanted to set up my own business when I was younger, but I would never refer to myself as an entrepreneur – I hate that, it always feels a bit, a bit... grandiose.
I'm now a chief executive. I had to think whether or not I would make a good CEO for Fetch; I think I will. It's a new challenge and I'm embracing it. I'm looking forward to working with Rob [Horler, chief executive of Northern Europe, Dentsu Aegis]. We get on well and it's in both our interests for Fetch to become aligned quickly with opportunities within the group.
Is the UK truly a leader in mobile?

Yes, it properly is. Along with New York and San Francisco – they are capitals of mobile. In the next year mobile video is going to be a real driver of growth. TV has impact because it's sight, sound and vision and mass – but if you can combine that with targeting, then video can be really big on mobile.
My own viewing habits are changing. The numbers might not show it yet, but I believe that mobile or tablet viewing, even if projected onto screens of course, is going to grow. The problem for video at the moment is that it's cost prohibitive. The price will need to come down at some point, and it will.
What are the goals within Fetch?
This is properly chapter one. I really want to grow this business and it's going to take me longer than my earn out to do what I want to do. We are trying to build a great business but we're also trying to build a great environment. Culture in the agency is really important. We want to be the best place to work at.
What will be interesting is how we develop as an agency. There is a bigger plan beyond mobile. At some stage everything will merge and mobile will be at the centre of it for a number of clients, and we want to own that. Why don't we just connect the dots and do everything in the cross screen world.