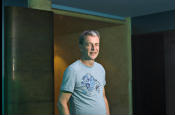 Kydd, who has been with the company since the acquisition of Virgin Mobile in 2006, has since overseen a series of high-profile brand campaigns. He oversaw the creation of the Virgin Media brand out of the NTL and Telewest businesses.
Kydd is expected to take a brief career break. Virgin Media will announce his successor by the end of September.
Kydd was at the forefront of the rebrand of Ntl:Telewest and was responsible for signing up actress Uma Thurman to front the initial £20m relaunch of the company into Virgin Media.
Last year, with Virgin Media facing an an unprecedented marketing assault from rival BSkyB, he was credited with some memobrable campaigns. .
His team clinched the Big Brother sponsorship in the wake of the show's racism scandal when the brand took over the spots from Carphone Warehouse.
Kydd has managed relationships with Virgin Media's roster of agencies including Rapier, Rainey Kelly Campbell Roalfe/Y&R, Manning Gottlieb OMD and Goodstuff.
Results announced this week showed that Virgin Media lost 19,500 customers in the second quarter, 51,400 fewer than in the same period last year.
Earlier this summer, the company enabled its cable customers to use their TVs to access the BBC iPlayer. The service recorded 10.5m views in its first month.