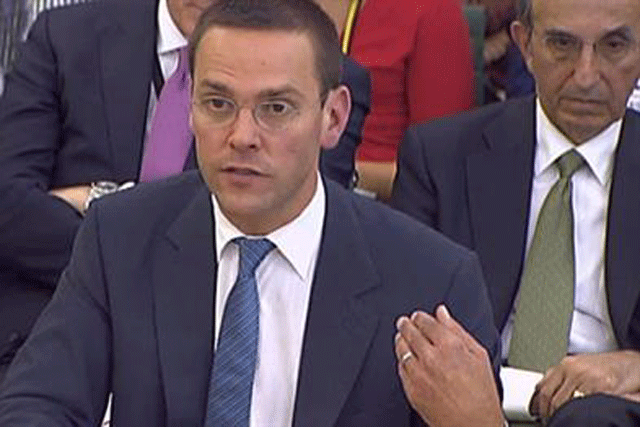 According to a filing to the US Securities And Exchange Commission last night, 34.8% of News Corp shareholders with voting rights had voted against James Murdoch's re-election as a director at the company's annual general meeting on Friday.
However, because of the way News Corp is structured, the majority of shares (69.5%) have no voting rights (Class A shares) and so their owners are unable to elect board members or be part of major decisions such as takeovers.
Despite only owning 12% of total News Corporation shares, the Murdoch family controls 40% of the class B shares with voting rights, and so is effectively able to control the company.
James Murdoch is currently deputy chief operating officer of News Corporation, chairman and chief executive of News Corporation International, and chairman of British publishing arm News International.
It was in his role as chairman of News International that James Murdoch approved the 2007 legal settlement with Gordon Taylor, chief executive of the Professional Footballers Association, who was suing because his voicemail had been intercepted.
Rupert Murdoch, James' father and chairman and chief executive of News Corporation, fared better with 84.4% of shareholder votes supporting his re-election to the board.
Lachlan Murdoch, James' elder brother and currently interim chief executive of the Australian Ten Network, received the second largest number of votes against re-election at 33.7% of all the shareholders with voting rights.
Shareholders reported to have voted against keeping James and Lachlan as directors of the company included US pension funds CalPERS and CalSTRS, the Church of England, and the BT pension fund Hermes.
Other directors to receive sizeable votes against their re-election included Arthur M Siskind, former general counsel and Rupert Murdoch's senior advisor, and Andrew S B Knight, chairman of the compensation committee.
Yesterday Les Hinton, the former executive chairman of News International and chief executive of Dow Jones, told the Culture Select Committee he saw no reason why James Murdoch should resign.

Hinton said he only found out about the incriminating "for Neville" email after the Gordon Taylor settlement was revealed by The Guardian in 2009 and dismissed suggestions he had misled MPs in previous appearances.
Follow Maisie McCabe on Twitter @MaisieMcCabe