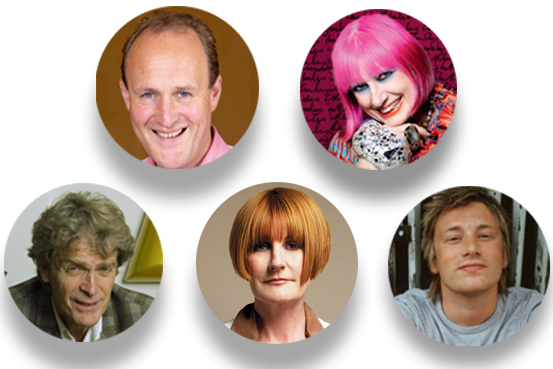 Sir Peter Bazalgette, chair of Arts Council England
"Any space which is not the workplace. I thought up my most successful TV show on the Central line. Holidays are great for letting the mind wander fruitfully. Baths are better than showers... You can linger a bit longer in a reverie."
Zandra Rhodes, fashion designer
"My creative space is in my head, especially as I have to work so internationally. I work in my sketchbook, drawing things I see. Most recently it was on a fabulous, but very short trip to Mexico City where I drew Diego Rivera's house, surrounded by its fence of straight cacti."
Jamie Oliver, celebrity chef and campaigner
"My kitchen at home in Essex, where me and the family spend our weekends and school holidays. It's the place where lots of my recipes start out - I'll get an idea then I can usually just go into the garden and pick some fresh herbs and veg and try out the recipe there and then. It's also the place where I cook with the kids and that's always a creative experience!"
Mary Portas, retail consultant and broadcaster
"I feel energy from spaces. They feed my spirit. But that doesn't have to be one place. I have a cabin in my garden, where I wrote my memoir Shopgirl. It smells of wood and age and memories and life. My agency, Portas, is in Bloomsbury. The fact that Dickens lived and wrote there made it all the more special for me. We all sit together in an open space and share the energy of creativity that vibrates through. We are all responsible for keeping our space loved. In turn, it feeds our creativity."
Sir John Hegarty, BBH co-founder
"For me, it has to be Soho. Being in a creative environment stimulates enterprise, inventiveness and innovation. All of which are essential to successful businesses. Soho is the most creative square mile in the world. What better place to locate your future?"
---
Recommended