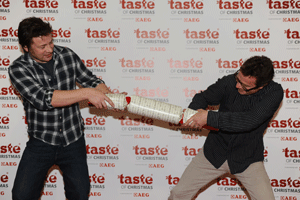 Last weekend (2-4 Nov) the partnership between Taste Festivals and Jamie Oliver kicked off with the chef appearing at Brand Events' Taste of Christmas exhibition held at Excel London.
The deal involves a UK-based fundraising campaign at Taste Festivals for the next 12 months, and will also include special events, pop-up restaurants and special guest appearances from Oliver and his friends.
Taste Festivals managing director Justin Clarke said: "Jamie's Foundation is one of the world's most inspiring food charities and we plan to raise awareness and hundreds of thousands of pounds supporting him."
Announcing the collaboration, which will take place at Taste of London and The Big Feastival in 2012, Oliver said: "it's brilliant for Taste to support us and raise vital funds for the foundation."
To leave a comment register and let us know your thoughts.
Follow Jeremy on Twitter @JeremyKingEvent and @Eventmagazine