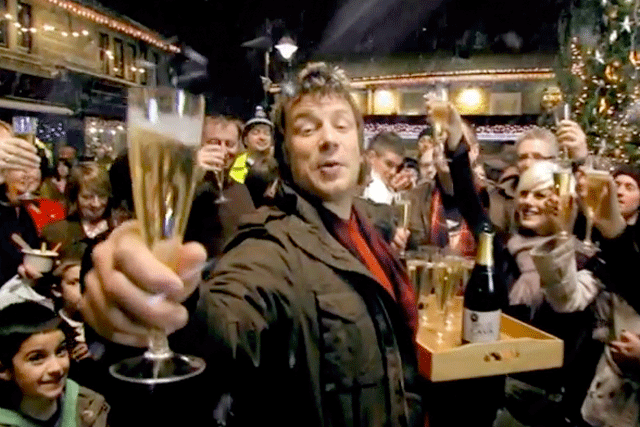 Marketing revealed yesterday (15 October) that Sainsbury's 2014 Christmas ad is to centre on the World War I 'Christmas Day truce' football match, to mark the event's 100-year anniversary.
While we wait for the campaign's upcoming release, due after Armistice Day, we take a look at the supermarket's festive season advertising over the last five years, all created by its agency Abbott Mead Vickers BBDO.
The forthcoming ad would appear to mark another change in approach for Sainsbury's. Between 2009 and 2011, the supermarket capitalised on its long-standing relationship with celebrity chef Jamie Oliver.
Following Oliver's departure, the 2012 and 2013 ads each attempt to bring to life the special moments that are part of the festive season.
Last year's effort was based on a collaboration with film director Kevin MacDonald, using real footage from family films, which lent an intimate feel to the work. This year's campaign, developed in partnership with the Royal British Legion, with whom Sainsbury's has a long association, may turn out to have a more epic tone.
2009: Jamie goes on a road trip
Jamie Oliver, who at this point had been fronting campaigns for the brand for eight years, takes a road trip round the UK in a Sainsbury's truck stopping off to feed the locals with the best the supermarket has to offer
2010: A perfect Christmas
This time, a street is transformed, complete with fake snow, festive food and fireworks, all accompanied by a soundtrack by the Alcester Male Voice Choir. Oliver features in the background, preparing food and being genial. The ad promoted a competition giving people the chance to win a 'perfect' Christmas delivered to their door.
2011: Jamie's swansong
After 11 years as the face of the brand, Jamie Oliver went panto in his final TV ad for Sainsbury's. Filmed on location at London's Adelphi Theatre, the ad features Oliver cooking Christmas dinner for a full pantomime cast.
2012: Special moments
Now without Oliver, the supermarket took a more personal approach and homed in on the small moments that make Christmas special, beyond the big day itself. There were 14 executions for this campaign including one where two shoppers crack open the Christmas chocolates as soon as they arrive home with their purchases.
2013: Real-life moments
Sainsbury's devoted its 2013 Christmas TV slots to a series of vignettes taken from a 50-minute documentary created by The Last King of Scotland director, Kevin MacDonald. The film told the story of Christmas Day in the UK by patching together a series of home videos, featuring families and friends in some touching and funny scenes.
Read next
Read next