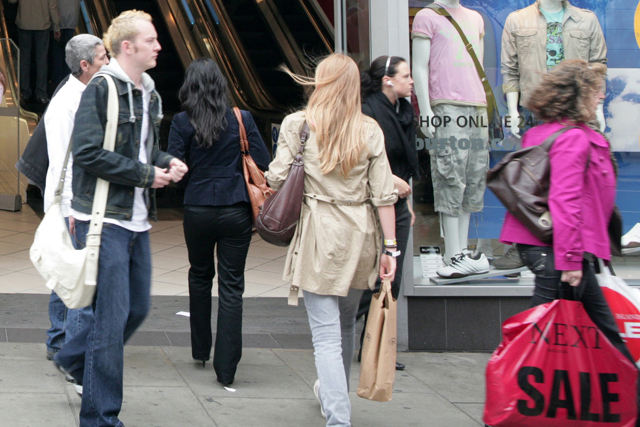 Retail sales grew by 8.2% in value, and 5.3% in volume compared to January 2010.
Leading the increases in sales value are non-food and "non-store" (ie sold over the internet, by catalogue or phone) products, which rose by 21.3% compared to a year ago. Non-food stores increased sales by 9.1%.
Internet sales accounted for 10% of all sales - approximately £523m per week, and down slightly since November.
However, poor weather in January 2010 had a negative impact on sales that year, so increases this year are perhaps not as impressive as they first appear, according to retail analysts.
Neil Saunders, consulting director at Verdict, said: "While any increase in sales is welcome, these figures are something of an illusion. They are inevitably flattered by a weak comparative last year, poor trading in December and an increase in VAT.
"All of these things are one-off factors and mean it is unreasonable to assume that this kind of growth rate will continue. Indeed, there are signs that February trading has been much weaker, a pattern we expect to continue throughout the first quarter."
Gemma Lovelock, UK managing director at marketing agency, TLC Marketing Worldwide, agreed. She said: "The VAT hike on January 4 saw many people bring forward bigger ticket purchases during the first few days of the year.
"The UK's retailers are facing an extremely challenging 2011. This week alone we have seen inflation and unemployment rise and Nationwide's Spending Index fall to its lowest level since the weeks following the collapse of Lehman Brothers.
"Probably the biggest threat to the retail sector is a rise in Bank Rate, which is now a real possibility given that inflation is double the Bank of England's target. If interest rates rise only marginally, many households will come under extreme pressure, especially if their mortgages are linked to their lender's SVR."
The supermarkets have waged a cut-throat price war since Christmas and Asda has pledged to undercut competitors by 10% leading the offensives.