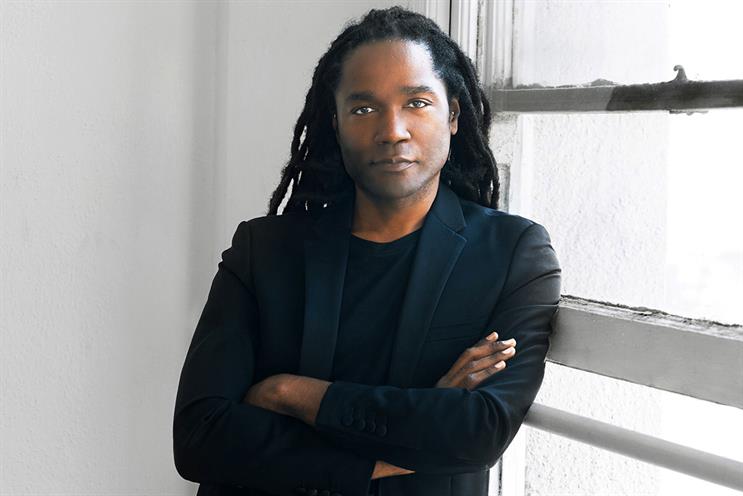 Jayanta Jenkins believes Twitter can make the world a more inclusive place.
Nearly a year into his job as Twitter's global group creative director, Jenkins is fresh from a career victory after his first major work for the company, billboards featuring images from news and pop culture alongside hashtags, won the Cannes Lions Outdoor Grand Prix.
Those ads, as well as the "See every side" brand campaign that launched at Cannes, demonstrate that Twitter is finally finding its voice, Jenkins says – and it has something bold to say:
"The takeaway that hopefully comes out of a Twitter experience and that we want to build on is that we're making the world a closer-knit, more empathetic place to be in," he says.
That message might sound lofty given criticism that Twitter has faced, such as being slow to respond to trolls and online abuse on the platform. In late 2016 Twitter finally rolled out new tools to help fight harassment, after chief executive Jack Dorsey admitted the company hadn't done enough to fix the issue.
After Brexit and the US presidential election, when Twitter became Donald Trump's communications tool of choice, social media giants have also been criticised for enabling filter bubbles that don't allow users to hear alternative points of view. But Jenkins insists that Twitter is less of an echo chamber than Facebook, and he points to the "See every side" tagline as an illustration of this.
I'm in the Pride parade! Twitter stands for free expression, it's an open platform. #seeeveryside #LoveIsLove pic.twitter.com/W1tQil7Dvk

— Biz Stone (@biz) June 25, 2017
"The way my feed is curated on Twitter, I follow everything and everyone and people that I especially don't agree with so I can have this empathetic point of view. Because Twitter is an open platform and real time, the filter-bubbling becomes more of a choice than an algorithm," Jenkins says. "I hope that our work creates a sense of discovery and curiosity."
Jenkins arrived at Twitter in August 2016 with a creative brief to help define the brand in a deeper way, having previously spent a year at Apple's Beats by Dre. He also had seven-year stints at TBWA/Chiat/Day, working on brands such as Gatorade, and Wieden & Kennedy, with client Nike. He describes his experiences with those established brands as "a construction worker, because that architecture had already been put in place."
"But Twitter is distinctly and uniquely an architectural brand-building role," he says. "I've never had this hands-on access and experience in helping build a brand like this before."
His first creative work for Twitter was simple, and centred around the platform's most distinct feature: the hashtag.
"One thing I thought about was the hashtag and how to bring back the power and ownership to Twitter who put it into the world ten years ago," he recalls. "It's the purest expression of an idea out of my head that's gone out into the world in my entire career."
The result, the Cannes Grand Prix-winning campaign, featured no copy, only hashtags and Twitter logos alongside images of political figures or controversial issues such as marijuana and guns. The outdoor ads highlighted Twitter's ability to provide a forum for debate.
"You're not being told how to think, you're just being asked to participate," Jenkins says of the campaign. "Twitter is a brand that shows sides and doesn't take sides. That was an important thing that came out of all those executions, and it started to inform a high-level strategic point of view which has now manifested into 'See every side.'"
Whereas the outdoor campaign was meant to "humanise the brand" and "reaffirm its place in popular culture," the new work aims to give the "why" of Twitter, Jenkins explains.
"I don't think it's a question of people knowing what Twitter is, the question is the 'why' – why do I need to have it on my phone?" he says. "Twitter previously hadn't done a great job of articulating how to use it or the why of Twitter."
The new campaign launched in the US and includes a TV ad starring Chance the Rapper, who asks his Twitter followers for song requests for a concert. Additional films will show different sides of sports and news, while a TV spot running in Japan will show multiple perspectives from the country's 40 million Twitter users.
Chance is happening. #SeeEverySide pic.twitter.com/1MF5NtIFan

— Twitter (@Twitter) June 26, 2017
These ads "allow people to begin to see each other's similarities and not differences," Jenkins says. "That's the thing that Twitter is doing well and it can do more of."
Jenkins has been focused on building Twitter's internal creative team, drawing talent from varied backgrounds including agencies and the tech sector. What they have in common is their ability to tell stories, he says, and he hopes their diverse perspectives will be reflected in Twitter's brand communications.
"Where it gets interesting is where you're able to bring these diverse points of view together to create something new," he says. "In this brand campaign, you have an astrophysicist next to Shaq [former basketball star Shaquille O'Neal; see video below] next to a skateboarder next to a female boxer. For our generation, that's what the world looks like to us."
There's the best, and then there's the greatest.

GOAT is happening. ??#SeeEverySide pic.twitter.com/hpbSKvwiMo

— Twitter (@Twitter) June 26, 2017
Twitter's focus on reaching diverse communities has a business imperative too; for years it has been trying to boost user growth. While daily active users rose 14% and average monthly active users grew by 6% in the first quarter of 2017, earnings fell 8% and advertising revenue dropped 11% compared to the same period last year. The company has yet to make a profit after 11 years.
It is trying to reignite a spark internally as well, with co-founder Biz Stone recently returning in a new role focused on culture.
Recent creative successes have helped rally Twitter's employees, Jenkins claims: "I'm starting to see people excited that we're seeing ourselves in the work and the world is seeing a side of Twitter that they're like oh, that's their voice.
"That's what's going to drive the work going forward, this momentum and confidence that's building in everyone in the organisation."
A year from now, Jenkins hopes people will understand that "Twitter is the place for what's happening, and if you don't have the app on your phone you're actually missing out on conversation." He says his goal is to continue building "love for Twitter as a platform."
For Jenkins at least, his confidence in the brand is strong – now it's a matter of bringing others around to his affinity.