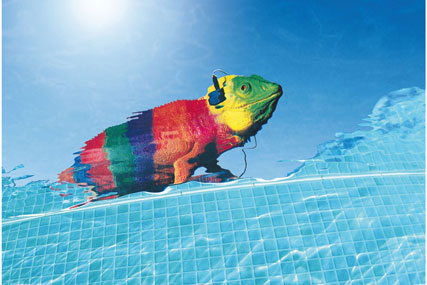 The ad, created by integrated creative agency WARL, features a multi-coloured chameleon listening to headphones, on top of a swimming pool, with the strapline 'come on in'. It will run on 2,000 six-sheet posters.

Richard Wheatly, chief executive of Jazz FM, said: "The chameleon is a wonderful advertising asset for Jazz FM and Clear Channel's Adshels are the perfect medium for us to show it off."

Jazz FM was relaunched by The Local Radio Company as a digital-only station under licence from Guardian Media Group (GMG) in October 2008. Wheatly led a management buyout of the business in April the following year.

The chameleon, which dates back to the 1990s, was temporarily ditched in 2003 and resurrected for a local outdoor campaign in London and the South East in June 2009.

Wheatly, who founded Jazz Fm in 1990, sold it to GMG in 2002. Its stations were rebranded as Smooth in 2005.
The national sales for Jazz FM are handled by First Radio Sales, while the local sales are handled by former ITV executive Dave Hill's TPC Media, and sponsorship is managed internally.