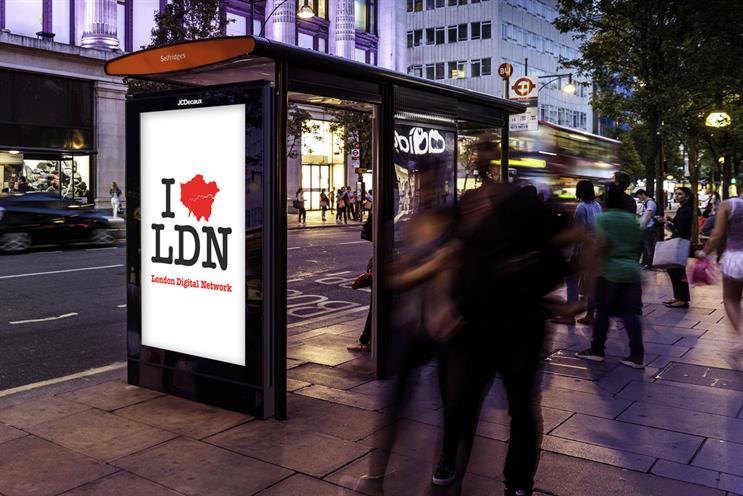 The £300 million contract, described by Transport for London as the world's biggest bus shelter advertising deal, was won by JCDecaux in July, as revealed first by Campaign.
JCDecaux will take over the bus shelters on 1 January 2016, and will start to build out a network of 1,000 digital screens.
The digital bus shelters will comprise 84-inch screens – 40 per cent larger than the existing ones – in areas of major retail spend in the capital, such as near shopping centres and major thoroughfares.
Oxford Street's bus shelters will also be completely digitised, with double-sided digital bus shelters, in a bid to catch the eye of people travelling through Europe's busiest shopping street.
The outdoor media supplier is calling its offering The London Digital Network (LDN), with which it intends to deliver optimised campaigns supported through data and a new platform called SmartBRICS.
The platform is supposed to enable better targeted campaigns, using data from CACI, the analytics house, and social media feeds.
Information for SmartBRICS will also be obtained from a survey of 5,000 randomly selected Londoners, with questions asked by JCDecaux's clients, agencies and specialist partners.
Jean-François Decaux, the chairman of the executive board and co-chief executive of JCDecaux, said: "JCDecaux plans to make London the global showcase for digital out-of-home with more than 50 per cent of its UK advertising revenues forecast to be coming from digital by 2017.
"The new 84-inch screen is a step change in display quality and the scale of our build out will provide a new communication channel for London, backed by big data that will transform what is possible in out-of-home."