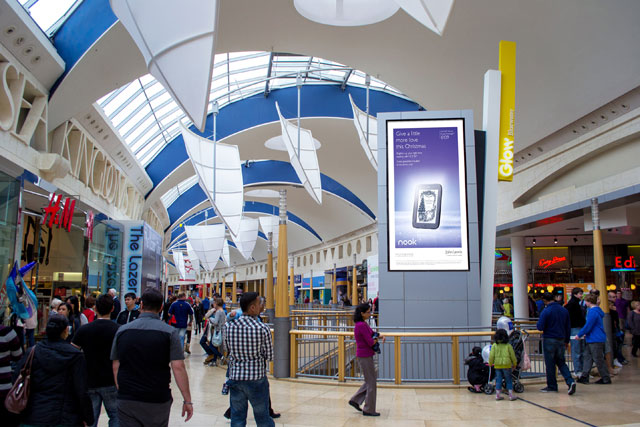 The new digital format will be positioned in atrium areas near to major stores, which JCDecaux believes offers brands "unprecedented" access to audience on this large-scale digital canvas.
John Lewis, Three and DKNY are among the first advertisers to advertise on the new screens.
JCDecaux has installed two M-Vision screens in Bluewater at Greenhithe, and one M-Vision screen in the Bullring in Birmingham.

M-Vision will be extended to Lakeside at Thurrock, the Harlequin at Watford, and the Victoria Centre in Nottingham, followed by malls at Trinity Leeds in 2013, with the goal of offering brands "large-format impact" with the sealed-up glossy magazine display of a digital six-sheet.
Spencer Berwin, managing director, Sales at JCDecaux, said: "This investment into digital outdoor will give our customers even better access to the aspirational and image-conscious audience delivered by our premium malls.
"From fashion and beauty to telecoms brands, digital offers enormous flexibility with the ability to run time-sensitive and multiple messaging, reaching millions of shoppers in our malls.
M-Vision aims to add "impact and cut-through" and has been designed to make it easy for brands to transfer their D6 copy to this new, portrait digital canvas.
According to JCDecaux, digital has already played a key part in the transformation of the company's rail business, with the rollout of D6s and Transvision nationwide, and will play an "increasingly important" role.
The full-motion M-Vision screens have a 6mm pitch, the same high-quality as the Transvision screen network.
In October, JCDecaux digitised all of its Cromwell Road sites calling it the 'The Cromwell Road Digital Gateway'.
Further activity this year included an exclusive UK partnership with Airvertise, the company that patented PosterProps, a product which adds 3D elements to outdoor advertising campaigns at a lower cost than traditional construction.
Follow @nickbatten2