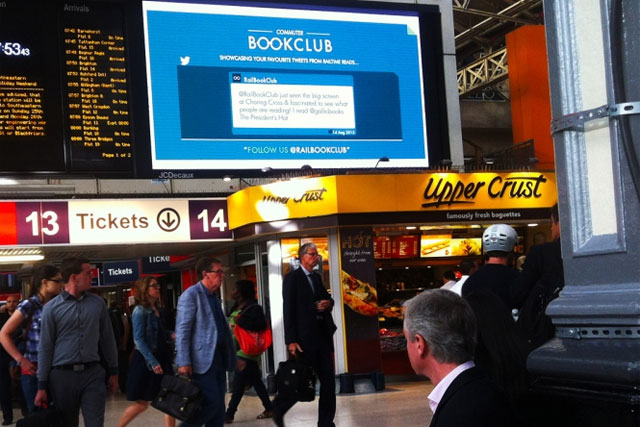 JCDecaux's @RailBookClub scheme broadcasts book reviews and recommendations, sourced through Twitter, on digital screens in train stations across the UK. The out-of-home media owner launched the club in July 2013. Book publisher Hachette UK is its first partner.
The partnership will have the pair working together to create content for the club. It will give JCDecaux access to signed publications, limited edition manuscripts and other collateral to offer commuters, followers and clients through digital media.
The company will also gain access to authors such as Martina Cole, Jill Mansell and Cressida Cowell for events such as live Q&As, book readings and other one-off events.
Paul Carolan, commercial director of JCDecaux, said: "Working together with the Hachette UK group of publishers, we can create fantastic campaigns to link dynamic digital content with social media.
"We will also be working with Hachette to bring big author engagement to the rail audience, including live Twitter Q&As, live book readings, and special events."
Damian Horner, brand development director of Hachette UK, said: "This kind of multi-media partnership is the future of book marketing. We are glad that Hachette is at the forefront of finding news way of engaging with readers."