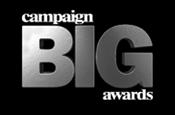 The Big Awards is a new multidisciplinary event, combining a number of Campaign's existing awards. More than 70 judges will decide on winners in press, poster, direct, digital, radio and TV categories.
Campaign's publisher, Rachael Stilwell, said: "It is fantastic that we have managed to sign up two partners of the calibre of JCDecaux and Royal Mail."
The closing date for entries in the Big Awards is 20 June, with the presentation night taking place on 22 October.
Click for more details about the Big Awards