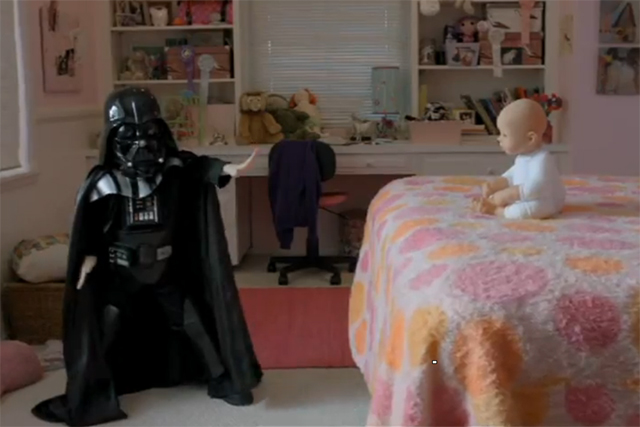 Top of the list, with more than five million shares, is Volkswagen's 2011 Super Bowl spot by Deutsch USA, which features a kid trying to channel Darth Vader.
It has been mentioned in more than 4,000 blog posts since it was posted in February 2011.
Two other pieces of work for VW also make the chart – the ad it ran during the 2012 Super Bowl and its teaser, which ranks two places higher than the ad it promoted.
Two Adidas ads from 2010 also make the chart, with combined shares of more than 426,000.
Although Lucas has massively stepped up the commercialisation of the franchise in recent years, it's not all new ads on the list.
A US public service announcement from 1982, in which C3PO catches R2D2 smoking a cigarette, has received 19,822 shares since its rediscovery on the web in 2007.
Ads from Tom Tom, the sat nav brand, and ESPN were also featured in the chart, which was produced in conjunction with Unruly, which ranks ads according to the number of times they have been shared on Facebook, Twitter and the blogosphere.
1. Volkswagen 'the force' by Deutsch LA
| | |
| --- | --- |
| | 5,057,996 |
| | 4,061 |
5,062,057 shares
2. VW 'the bark side' by Deutsch LA
| | |
| --- | --- |
| | 800,364 |
| | 1,437 |
801,801 shares
3. Adidas 'Star Wars cantina 2010' by Sid Lee
| | |
| --- | --- |
| | 358,399 |
| | 1,693 |
360,092 shares
4. Tom Tom 'Darth Vader recording'
| | |
| --- | --- |
| | 277,644 |
| | 819 |
278,463 shares
5. VW 'the dog strikes back' by Deutsch LA
| | |
| --- | --- |
| | 274,217 |
| | 995 |
275,212 shares
6. Tom Tom 'Yoda recording'
| | |
| --- | --- |
| | 129,500 |
| | 486 |
129,986 shares
7. Spke TV 'Darth Vader plays golf'
| | |
| --- | --- |
| | 110,634 |
| | 400 |
111,034 shares
8. Adidas 'Star Wars collection' by Sid Lee
| | |
| --- | --- |
| | 65,731 |
| | 1,047 |
66,778 shares
9. ESPN 'ole miss Star Wars'
| | |
| --- | --- |
| | 26,993 |
| | 62 |
27,055 shares
10. PSA 'Star Wars smoking'
| | |
| --- | --- |
| | 19,726 |
| | 156 |
19,882 shares