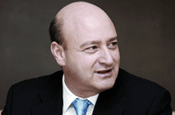 The restructure will see online assets such as ITV.com, Friends Reunited and ITV Local merged in with ITV Broadcast under Peter Fincham, the director of television, channels and online at ITV.

ITV said that the move would allow for greater co-operation between its broadcasting and online divisions.

Michael Grade, executive chairman of ITV, said: "With content at the heart of our turnaround strategy, it now makes sense to integrate fully all our platforms to ensure the very best of our content is available to viewers wherever they wish to view it."