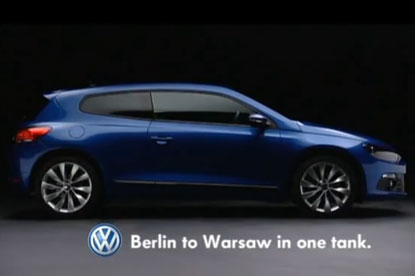 After the show aired on Sunday night, a number of aggrieved viewers complained to both Ofcom and the BBC.

Ofcom said the number of complaints received by the BBC was more than 100, but the BBC denied this, saying the figure was "just a handful".

The show featured a segment in which both Clarkson and co-presenter James May were challenged to create a VW ad for the new Scirocco TDI.

The pair sought advice from DDB's executive creative director, Jeremy Craigen, and Jonathan Hill, the business director for VW, before embarking on their own creations.

One of Clarkson's attempts featured footage of people in a frenzied panic as they tried to escape the city of Warsaw.

The spot then ended with the strapline: "Volkswagen Scirocco TDI. Berlin to Warsaw in one tank."

The reference to Hitler's invasion of Poland prompted viewers to level critisims of xenophobia at Clarkson, for the second time in recent years.

In 2005, the cantankerous Clarkson offended viewers after giving a "Heil Hitler" salute while discussing the German-made Mini, before joking that the vehicle's GPS system may "only go to Poland".