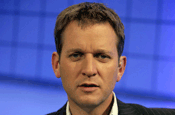 A story in yesterday's Observer said that the government had appointed a media agency to negotiate with the TV channel.

The move was condemned by opposition politicians, who objected to taxpayers' money being spent on the project.

Don Foster, Liberal Democrat shadow culture secretary, was quoted as saying: "I think many people would have reservations about whether taxpayers' money should be spent boosting Jeremy Kyle's profile."

A spokeswoman for the Department for Work and Pensions confirmed that an agency was exploring advertising-funded programmes, but no decisions had been made yet.