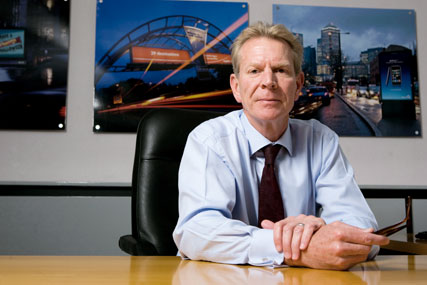 Male has been credited with running a very efficient and successful operation since he took the lead at JCDecaux in 2000.
He joins CBS Outdoor Americas as it looks to become an independent entity from parent CBS Corporation. The international arm of CBS Outdoor's business is in the process of being sold to private equity firm, Platinum Equity, for $225 million.
In his new role, Male will be tasked with trying to "maximise shareholder" after the split from CBS Corp, which is hiving off all its outdoor assets - considered no-longer a core business for the newly focused media and entertainment operation - into a new public company.
Leslie Moonves, president and chief executive of CBS Corporation, said: "We are very pleased that Jeremy is joining us at this crucial time for our outdoor business.
"Having previously announced a separate agreement to divest our international outdoor business, we are now in the process of creating a new and independent entity that will be comprised of our out-of-home assets in North and South America...
"Having a seasoned and dynamic executive like Jeremy at the helm can only add to the strength and direction of this new, independent company, and we very much look forward to the contributions he will make in that regard."
The departure of Male, known for his hard business skills, smart suits and love of rugby and swimming, will be a huge blow to the UK's largest outdoor media company.
Commenting on Male's resignation, Jean-François Decaux, chairman of the executive board and co-chief executive of JCDecaux, said: "I would like to thank Jeremy for having done a great job in the further development of these European markets which I started as greenfield operations in the early nineties.
"I will be personally taking over the CEO position for the United Kingdom and regional management for Northern Europe and Australia."
Prior to joining JCDecaux, Male was chief executive of CBS Outdoor's European operations (formerly TDI Advertising).
Male also held numerous management positions in consumer goods companies, and was European managing director of Tchibo Coffee International in 1987.
Elsewhere, CBS Corporation announced Wally Kelly as president and chief operating officer. Kelly has been with CBS Outdoor since 1996.