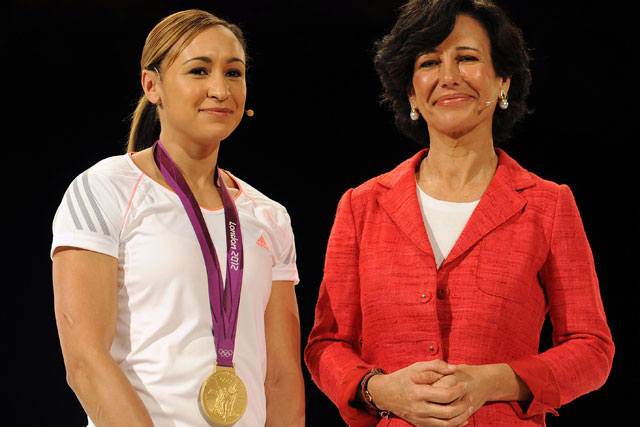 Santander, which in the past has used sports stars including Lewis Hamilton and Jenson Button to front advertising campaigns, said that the addition of Ennis to its cast of brand ambassadors would enable it to appeal more to women.
This time last year, the brand said it had overhauled its marketing strategy in favour of a more "human" approach.
Ana Botin, Santander UK's chief executive, said: "Santander UK's corporate partnerships with Vodafone McLaren Mercedes and Rory McIlroy have been extremely successful.
"I am delighted to welcome Jessica to our extraordinary Santander team, to build on the success of our existing partnerships and to form a new alliance for us, in a different sport."
Santander claims that its use of sports stars has raised its UK brand awareness from 20% to 94%.
Ennis, who won a gold in the London 2012 Olympic Games heptathlon, added: "Santander is a traditional bank, as well as one that focuses on giving value to customers through very competitive products.
"I'm proud to say I am one of those customers, and am really excited to be working with Santander and appearing in the new advertising campaign."
Ennis's other recent endorsement deals have included Jaguar, Coca-Cola-owned Powerade, BA, Aviva and Procter & Gamble's skincare brand Olay.