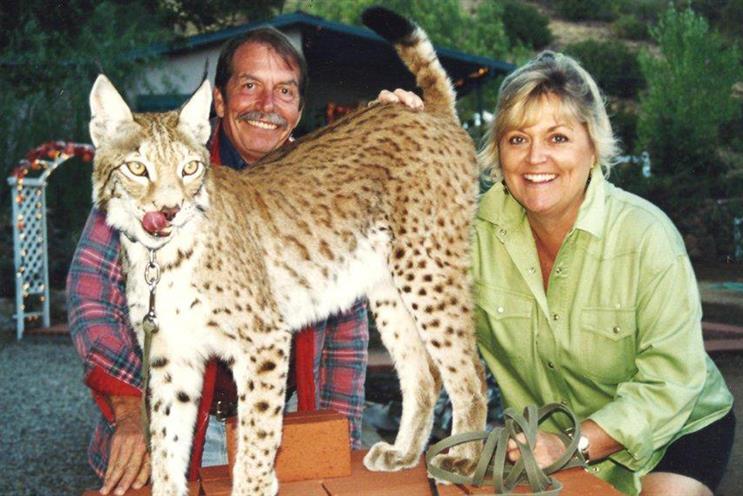 Why The Brocketts supplied the alligator that appears in Johnny Fearless' new ad for the launch of the Diageo drinks brand Jeremiah Weed (pictured, below).

How They say: "We had some fun. Every time we move the alligator for a new take or re-adjustment, we have to secure its mouth for safety reasons. To carry the alligator, the four of us huddle tightly together around the gator, each carrying part of it. One of the gals who works for us was carrying the head end and walking backwards when she stepped in a gopher hole and fell down. Of course, since the alligator's mouth was secured in a closed position and the other team members were still holding on to the alligator, there was no risk or injury to any of the people or the alligator."
Inside Jim and Gina Brockett
How did you get into fauna supply? Jim has a degree in zoology. For years, he travelled and lived by catching and exporting animals. We started Brockett's Film Fauna in the early 80s and have been doing film work ever since.
Who do you work with? We provide all animals for all media. We are known for exotic animals and have the largest collection of dangerous reptiles in the business.

What are the most dangerous jobs that you have worked on?
Those with large crocodilians and venomous snakes.

Have you ever been bitten or injured by an animal? No injuries, fortunately. We are extremely careful and very safety-conscious.

What's the most interesting job that you have worked on? We have had so many interesting jobs. One that comes to mind is training seven large water monitor lizards for The Freshman with Marlon Brando and Matthew Broderick.

And what does the future hold for you? We are getting close to retiring, but we will always have animals. The future of the business does not look bright. Between animal-rights wackos, animatronics and computer graphics, we would be surprised if there are live exotic animals in the media in the future!