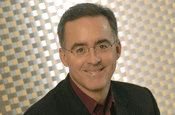 Stengel, who has worked for the P&G for 25 years, will take on special projects for the company from August 1 and will step down completely on October 1.

Marc Pritchard, the president of strategy productivity and growth at P&G, will succeed him.

It is understood that Stengel plans to take on some consultancy projects as well as writing a book and working with universities.

His departure comes shortly after P&G scooped the Advertiser of the Year award at Cannes last month.

A spokesperson for P&G said: "Jim feels very passionately that everything he has set out to achieve as global marketing officer he has now achieved."