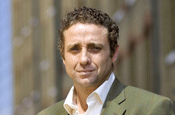 Thornton, who will not be directly replaced, is putting together plans for a start up that he says will be a "non traditional advertising agency".
Bruce Haines, the chairman of the Leo Burnett UK group, is now looking for an executive creative director with responsibility for both the advertising agency and Arc London.
Until an appointment is made, Mark Tutssel, Leo Burnett Worldwide's chief creative officer, will take on creative responsibility for the London agency.
During Thornton's time in charge, the department won numerous awards for clients, including the "spiderman" poster for Heinz and the "camera phone" teen road safety TV spot for the Department for Transport.
He also managed to attract some heavyweight creative talent, including the HHCL creative directors Jonathan Burley and Jim Bolton, who joined in January 2006.
However, during his time at the helm, the agency also failed to convert on numerous major pitches, the largest being the 2005 Sainsbury's review.
Both Haines and Thornton said the split was amicable and by mutual agreement. Haines added: "He joined us because he wanted to prove that you could do great work on big mainstream brands and he's done that. But he's also provided a new creative spark - he's a brave and committed leader and always pushes us to consider the impossible."
Thornton joined the agency from Mother in 2003 with Paul Shearer, from Wieden & Kennedy Amsterdam. The duo took the roles of joint executive creative directors and replaced Nick Bell, who left to take the lead creative role at JWT. Shearer left in September 2004 to join Nitro.
Before he started at Mother in 1999, Thornton spent three years at TBWA\GGT. Prior to that he worked for ten years at JWT as a copywriter.
During his time at Burnett's, it became the first London agency to set up a creative department in Second Life and to put live ads on stage during a West End production of Saturday Night Fever.