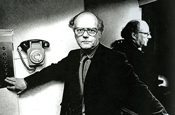 Dubbed one of the "jingle kings of EC4", Allen, along with his friend and partner Peter Marsh, was the creative brain behind campaigns like R White's "I'm a secret lemonade drinker", and the "Gotta lotta bottle" campaign for milk.
Unlike some of its more consciously high-brow contemporaries, the agency took an unashamedly populist approach.
Many of its most famous campaigns, created from the late 1970s to the mid 1980s, were based around catchy songs that caught the nation's attention and captured the brand's essence in a few short bars. Most were created on the white grand piano that famously sat in Allen's office.
John Stubbings, a former ABM managing director and now a consultant, added: "Because of him, the place was extremely musical. There were at least two more pianos, beyond his own, at least two trumpets and a banjo in the creative department. He wrote em, Peter sung'em."
Allen, along with Marsh, also took a notoriously quirky approach to pitching, often dressing in white suits and straw hats and singing to prospective clients.
More often than not, the client would buy it. In 1981, ABM won British Rail -- at the time, the biggest advertising account win in UK history - after a pitch against its arch-nemesis, Saatchi & Saatchi.
From modest beginnings as a start-up in 1966, ABM grew to become a top 10 agency by 1979 (when it was the fastest-growing ad agency in Europe) and a top five agency by 1982.
When the agency was sold to Lowe Howard Spink in 1987, Allen retired to Suffolk and bought a mill.
Gerald Kreinczes, a former planner at the agency who worked there from the early 70s to the mid 80s, said: "It was definitely the Rod and Peter show. Rod was the unpretentious man of the people, while Peter was the pretentious man of the people -- and clients loved it."
ABM alumni include advertising luminaries like Cilla Snowball, the chairman and chief executive of AMV Group, Simon Marquis, the former chairman of ZenithOptimedia and Trevor Beattie, the founder of Beattie McGuinness Bungay.
Marquis said: "Whatever the brief was, Rod had the wonderful skill of taking it, building a creative concept and then encapsulating everything about the brand in a few bars of a jingle."
Allen's funeral will take place near his home on Friday.