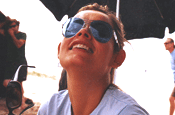 Bailey started out as a documentary maker, then shot music videos, before progressing to commercials.
Her most recent work includes creating indents for the BBC and Waitrose, plus ads for 3 Mobile and Hovis.
Bailey joins the Bare Film Company from Weilands.
Her previous work also includes ads for Pizza Hut, Abbey National, the Royal Navy, BT and Magners.
She recently had a baby and has been on maternity leave since December.