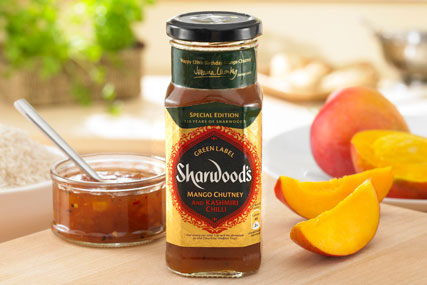 The new limited edition Mango & Kashmiri Chilli Chutney goes on sale today (5 August). The recipe has been developed by Lumley with Sharwood's chefs. The actress was born in Kashmir and the inclusion of the chilli is a nod to her background
The chutney was launched at Harvey Nichols today, but will be on sale in supermarkets starting in September.
A donation of 10p from each jar sold will be given to the Gurkha Welfare Trust, of which Lumley is a patron. The funds go towards the Debt of Honour Appeal, supporting retired Gurkha soldiers and widows.
Lumley said: "I have been addicted to hot spices since my childhood in the East and the Sharwood's chefs have helped realise my dream of creating a flavoured chutney with chilli from Kashmir, where I was born."
The launch also marks 120 years since Sharwood's founder James Sharwood first brought mango chutney to the UK.
Sharwood's is owned by Premier Foods.