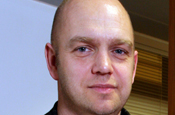 Out of the 26 roles, it is understood that 11 come from Ogilvy Advertising and ten from OgilvyOne, with the others spread across the remaining group businesses.

The staff entered a one-month consultation period last week. It is thought that Hellberg's role was put at risk, partly because spend on digital projects dropped.

Separately, Rebecca Rae, one of Craik Jones Watson Mitchell Voelkel's most awarded creative directors, has taken redundancy from Proximity following the merger of the two agencies.

David Brown and Derrin Stent, also creative directors, have also left the agency as part of the same process.