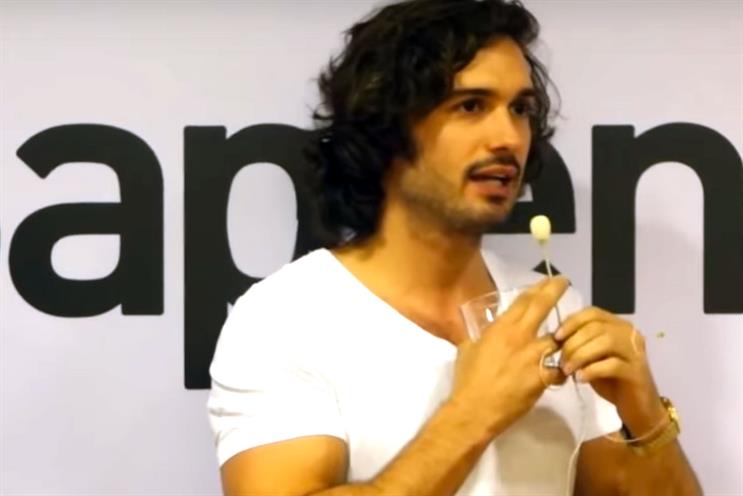 The fitness celebrity talked about the secrets of using social media and how he built his fitness empire through understanding the value of humour, his accessible personality and by producing a huge volume of "consistent" content.
Wicks addressed an audience of bemused marketers, while blitzing his "chunky monkey smoothie", talked about how his content is not just entertaining but also useful to his audience.
"I'm a 24/7 content machine," said Wicks. "It is not just lots of content that I produce all the time but it is all consistent."
His main platforms include Instagram, Snapchat, YouTube and more recently Facebook Live – where his followers can keep up with his stories in real time.
Comparing the difference between how the digital world and traditional TV responds to the fitness guru, Wicks said that when he launched a "TV ad" for his cookbook Lean in 15, it did "nothing for the sales of his book." However, when he went on Facebook Live, it crashed the Amazon website.
"There were more than 100,000 clicks through affiliates as soon as I went on FB Live," said Wicks. "We crashed the Amazon site, and Amazon thought it was spam."
His first cookbook, Lean in 15, is claimed to be one of the most successful cookbooks of the decade. "Six months ago I did not spend a penny in any marketing activity and we were still turning a £1m a month," he added.
Wicks and his team, which includes his brother Nikki, are now tracking data and metrics to help develop products and content.
The challenge now is to sustain his brand and growing number of followers, which include over 1.5 million on Instagram alone. "I will get old and bald one day, and I need to find mini ambassadors and collaborators to grow and sustain the business," he conceded.
A collaboration with Jamie Oliver is on the cards, he added.