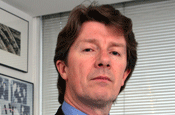 The one-time worldwide D'Arcy chief executive, will step down in July of next year after, having been in charge of the group's so-called SAMS operations since 2003.

During that time he played a key rile in its acquisitions programme which included the takeovers of Digitas and Freud Communications.

Under Farrell's leadership, the SAMS operation now accounts for more than a third of the group's revenues.

Farrell said he had taken a "tough decision" but was "looking forward excitedly to the next phase of my professional life".

Levy said: "I am very sorry John has taken this decision as he has done an outstanding job for us defining the strategy of SAMS and building the business to its current important level."

Farrell chose to stay with Publicis when the group acquired D'Arcy at the end of 2002.

Publicis chiefs decided the problem-plagued network was not worth the extra investment and absorbed its business into the group's other networks.

At the time, Levy insisted that the offer to Farrell to run the group's marketing services offering was not a "snub" to him because the group was looking to develop such activities much more aggressively.

News of the resignation comes a day after the company announced its first drop in profits since 2006.