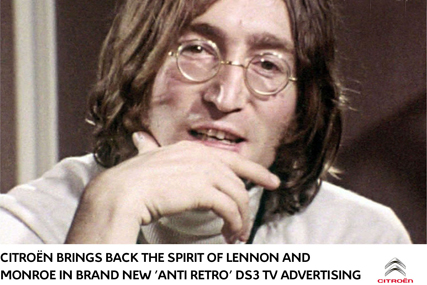 The ad for DS3, by Euro RSCG London, sees both Lennon and Monroe ironically arguing against dwelling on the past for inspiration.
Lennon says: "Once a things been done it's been done, so why all this nostalgia? I mean, for the 60's and 70's, you know, looking backwards for inspiration, copying the past. How's that rock and roll? Do something of your own. Start something new. Live your life now."
The latest DS3 model is then seen alongside a dance music soundtrack entitled 'W.A.R.R.I.O.R.', by Ebony Bones. The campaign, which breaks on Sunday 14 February during ITV1's 'Dancing On Ice', carries the strapline 'Anti Retro'.
Ian Hughes, Citroën UK marketing director, said: "Monroe and Lennon were chosen for their universal, timeless and iconic status. Their images are in tune with the anti-retro personality of Citroën DS3 – glamorous, maverick and individualistic.'
Citroën announced last February it was to revive its classic DS marque. DS – originating from the French word "déesse", meaning goddess, was introduced in 1955 before being phased out in 1976.