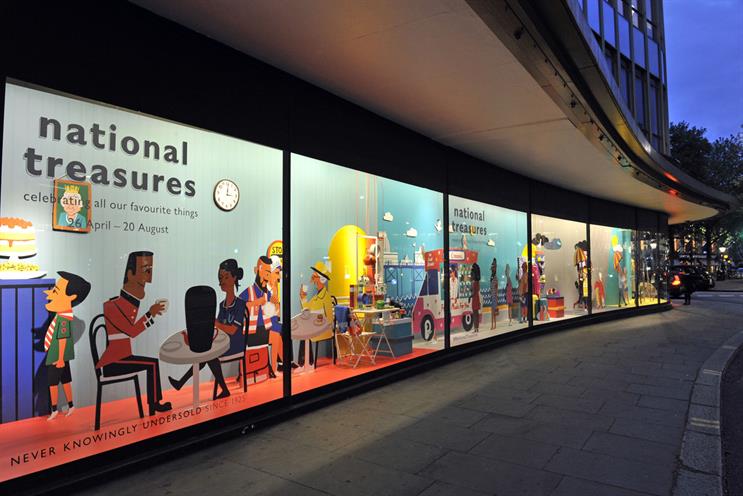 Running until 20 August, "National treasures" features artwork by illustrator Paul Thurlby, and will see shop windows and interiors decorated with life-sized cut-outs of 220 diverse characters, along with a range of installations applying the theme of the campaign to different store departments.
Alongside this, the retailer will hold events in partnership with more than 100 brands, including masterclasses, seminars, Q&As and workshops.
Each store will get a "national treasury" pop-up shop in the style of a greenhouse, offering limited edition gifts featuring Thurlby's artwork, along with selected best-selling products from key British brands such as Mulberry, Hunter and Dyson.
Peter Cross, director, customer experience, at John Lewis, confirmed the campaign would enjoy an increased marketing spend compared to last summer's activity. While it will initially be focused in-store, supported by social media, Cross added they were "exploring all options" for other channels – although this is unlikely to include TV.
The campaign has dual aims: to transition John Lewis's 48 stores into experience-led destinations, rather than simple retail outlets, and to increase the prominence of the brand outside of the festive season.
Cross said: "There's no doubt about it – we are well known for our Christmas campaign. The year is long, and the more you're reliant on those huge seasonal peaks, the more challenging it is really.
"We're a brand that is interwoven into the British way of life, and in summertime Britain really is at its best. This is something that's new for us, it's a step change in how we market."
The campaign, while very focused on the British way of life and British products, is also consciously diverse in its array of characters. Cross said that both the way it depicted the country, and its whimsical tone, had been influenced by the mood of the nation in the ten months since the Brexit referendum.
"What you want to do is read the mood of consumers the best you can, and we felt it was quite a good time to get people smiling," he said. "I don't think our role is to bridge any political divide – but we are certainly very sensitive to reflecting a modern picture of Britain in our characters."