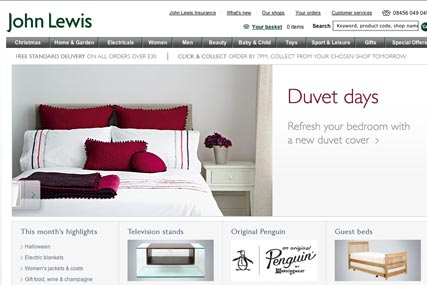 Webcredible, which also named John Lewis's website as the most consistently easy to use of the last five years, analysed the websites of 20 UK high-street retailers in September.
Each site was evaluated against 20 best-practice criteria and assigned a score of 0-5 for each, giving retailers a total out of 100.
John Lewis scored 91 points, after scoring 81 points last year. Close second was the Early Learning Centre with 90 points, while M&S and WH Smith came third and fourth respectively, with 86 and 85 points. Both had improved on 2009's performance, when they each scored 83.
At the bottom of the top 20 was Monsoon/Accessorize, which scored 59.
Webcredible's 2010 Online Usability Report revealed that while this year's lowest score was unchanged since 2009, the overall average across the high-street retail sector improved by 3.7%.
Notable areas of improvement included greater transparency of checkout and delivery charges. The category average was 4.9 out of five.
However, the survey noted some areas still in need of improvement, such as the tracking of viewed items, a category that only scored two out of five.
Other brands that demonstrated a marked improvement since 2009 included Hamley's and Debenhams, which tied for sixth place with 79 points, and increased their scores by 7 and 12 points respectively.
Trenton Moss, Webcredible director, said: "John Lewis is a consistent high performer in our annual analysis and this improvement in site quality has proven to be worth the investment made, as the retailer reports a record number of site visitors over the past five years.
"With a 20% year-on-year increase in sales, John Lewis is a prime example of how offering a top-class user experience can lead to a significant increase in revenue."