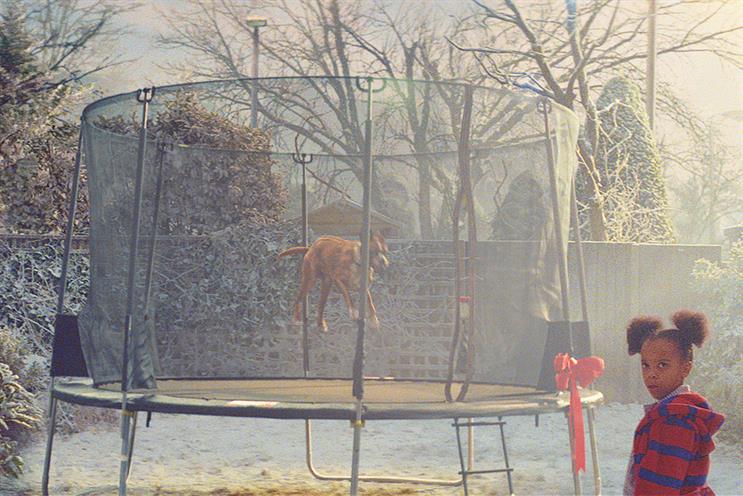 The Adwatch Christmas Likeability poll was conducted by TNS among a representative sample of 1,000 UK consumers. Campaign selected the ten ads in the table to put before the public.
John Lewis' decision this year to create a more joyful Christmas spot appears to have paid off. The ad, which was created by Adam & Eve/DDB and shows a dog bouncing on a trampoline, was liked by 52% of respondents.
In last year's table, John Lewis "Man on the moon" came second behind Sainsbury's "Mog's Christmas calamity", scoring 41% and 47% respectively.
Sainsbury's dropped to fourth spot this year, with 36% of the respondents liking "The greatest gift". The film, by Abbott Mead Vickers BBDO, shows a busy working father making replicas of himself so he can spend time with his family.
In second was Aldi's Christmas offering, in which an animated carrot makes the perilous journey across a festive table to meet Santa. The ad, by McCann UK, had a likeability score of 41%.
Third spot went to Marks & Spencer's film by Rainey Kelly Campbell Roalfe/Y&R that shows Mrs Claus delivering a gift to a little boy for his sister. It was liked by 37% of respondents.
Of the ten ads researched, TK Maxx's Christmas offering by Wieden & Kennedy London received the lowest likeability score (21%), followed by 18 Feet & Rising's spot for House of Fraser (22%).
Changing creative agency from MullenLowe London to Publicis London did not improve the likeability score for Morrisons' Christmas ad – both the 2015 and 2016 films got 26%.
However, because this year's batch of ads proved less popular with the public overall than the previous selection, Morrisons jumped from bottom of the pile in 2015 to sixth place this time round.