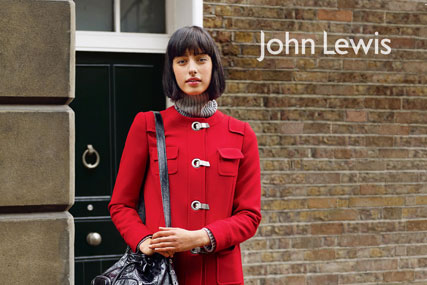 The retailer appointed customer publisher John Brown to create the catalogue, which has a print run of 650,000. It is being distributed in stores and sent to new and existing customers in the key pre-Christmas period.
The catalogue has a high-end, glossy feel and features designer labels including Mulberry and Richard James.
John Brown was tasked with promoting the brand to fashion-conscious women and the project was overseen by the publisher's editor-in-chief, Marie O'Riordan, who was previously editor of the UK edition of monthly women's magazine Marie Claire.
The launch issue, out this month, showcases the growing variety of fashion ranges available at the department store.
Paul Porrall, head of brand creative at John Lewis, admitted that until now the retailer 'has not been seen as a fashion destination'.
He added: 'It's a huge growth area for us, both in our shops and online, and we are sure this catalogue will surprise shoppers, and encourage a new passion for our fashion.'
John Lewis is currently running an outdoor and online campaign to promote its new-look womenswear departments. The revamp represents a marked shift in strategy for the retailer, which previously focused on more traditional 'classic' collections. The shake-up was overseen by buying and brand director Peter Ruis.
In addition, John Lewis will launch its own take on the rival 'Designers at Debenhams' strategy of offering lower-priced ranges from high-end designers. The designers include Osman Yousefzada and jeweller Alex Monroe.
John Lewis' investment in its catalogue follows a significant increase in its fashion sales over the past six months. This has formed the backbone of its post-recession recovery.
Fashion sales rose 19% in the first six months of the year and now account for a third of the chain's £3bn turnover. It has invested £10m in creating its new womenswear department in its Oxford Street store, and plans to revamp the fashion departments of a further 20 stores over the next three years.
Separately, John Lewis has extended its 'Never knowingly undersold' promise, which guarantees to match competitors' prices, into the online space. The retailer is now promising to proactively price-match products sold online by competitors, including during sales, as long as they also have a high-street presence.