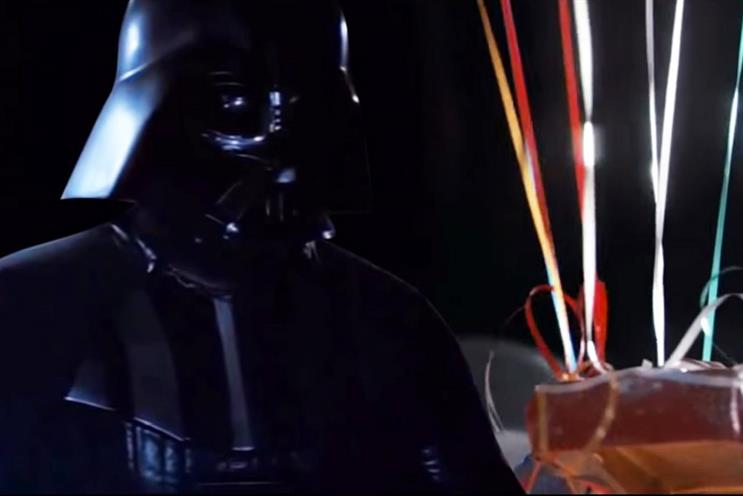 The ad, created by Adam & Eve/DDB, has become an annual event in the advertising calendar and was viewed 5.9 million times on YouTube within the first 24 hours of its publication.
Here is a round-up of the funniest and strangest #Manonthemoon spoofs so far:
The John Lewis Christmas Ad 2015 [The Dark Side Version] - Star Wars parody by The Poke
So what if the man living on the moon is actually Darth Vader? How would the Star Wars villain react to receiving a thoughtful gift from a little girl on Earth?
John Lewis Christmas Advert 2015 #ManOnTheMoon Parody by The Wagon Comedy
This very cheeky parody sees the man on the moon use the telescope for less-than reputable purposes.
John Lewis Christmas advert tribute ft Oasis by Goldie Lookin Chain
This effort by the Welsh comedy rap act is more of a critique on Christmas advertising in general and mixes in several John Lewis ads from recent years.
John Lewis Christmas Advert PARODY 2015 - #ManOnTheMoon #TheMoonManCometh by Redshirt Films
What if the #manonthemoon story was turned into a horror movie? Here is what the trailer may look like...
John Lewis Moon Hitler Advert 2015 - #MoonHitler Parody by Simon Mulvaney
Something never addressed in the ad is the question of why this poor old man is stranded on the moon in the first place. Perhaps he has done something evil? Perhaps he is Adolf Hitler?
Show Devon we care this Christmas... John Lewis Christmas Advert parody by Pirate FM
If you're from Devon you'll love it. If you're from Cornwall you might not like it. If you're not from either place you might not get it.