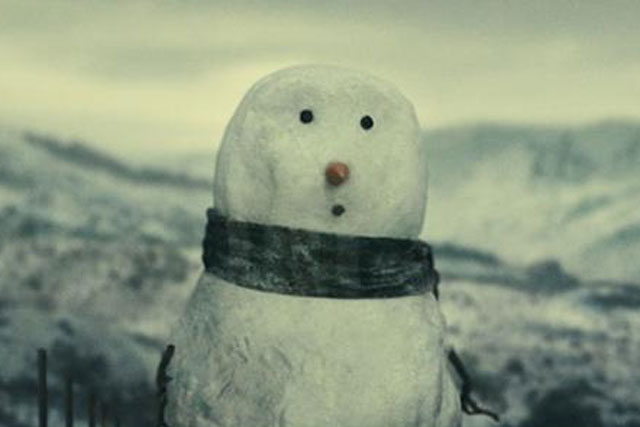 The retailer's sales for the week ending Saturday 8 December rose 15% year on year to £142m, which John Lewis is attributing to the success of its "omnichannel strategy".
Sales increased both in-store and online with johnlewis.com hitting record weekly sales of £42m and its best ever single day, which saw the online operation claw in £7.3m on "Mega Monday", the retail sector's busiest shopping day.
Meanwhile, the Gabrielle Aplin cover of 'The Power of Love' used in John Lewis' Christmas campaign by Adam & Eve/DDB knocked Olly Murs off the top of the official UK singles chart last night.
John Lewis claims sales were driven by customers looking for "that special purchase" for Christmas gifting, including gloves, cashmere, lingerie, handbags or jewellery.
The strong performance of gloves as a gift coincides with the Christmas ad showing a snowman making a long journey to get a pair of gloves for his snowwoman.
Weather conditions have also boosted the retailer with the onset of cold weather resulting in an uplift of coat, scarves and knitwear sales.
Andrew Murphy, retail director at John Lewis, said record sales in an economically challenging market proves "customers trust John Lewis to deliver the perfect Christmas for their family and friends".
He said: "It is great to see a really festive buzz in our shops and all our partners are focused on providing the levels of service and advice our customers expect from us, particularly at this key Christmas period."
John Lewis managing director Andy Street has linked a 40% year-on-year increase in online sales across the last three weeks to "paying the right amount of corporation tax" during a Sky News interview.

Corporation tax has become a hot issue with the UK public with the spotlight on US corporations such as Amazon, Google and Starbucks which have used legal tax avoidance schemes to reduce the amount of corporation tax they make on their UK profits

Amazon has become embroiled in a row over its tax structure after only paying £1.8m in corporation tax last year on profits of £74m and sales of £3.35bn.