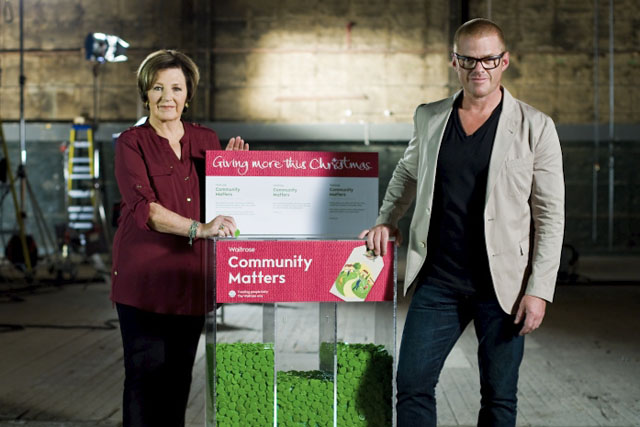 The supermarket launched an ad explaining why it was avoiding profligacy with 'fancy' festive marketing this Christmas, the week before John Lewis is due to air its campaign.
A source close to John Lewis claimed that the Waitrose ad has 'raised eyebrows' at the department-store chain, and is being seen as an 'implied criticism' of its impending Christmas activity.
Waitrose has pledged to donate an extra £1m on top of the £600,000 it would usually give to local good causes through its 'green token' charity scheme during November and December.
Its campaign implies this extra money has been saved from production costs and celebrity chef brand ambassadors Heston Blumenthal and Delia Smith waiving their fees.
Waitrose has confirmed that its spending on media for its Christmas campaign is at the same level as last year, and insisted the full £1m would come from saved production costs.
The supermarket continues to focus on taking high-profile ad slots for its Christmas campaign. It launched the drive at the weekend during The X Factor on ITV1, where a 30-second spot costs about £95,000 to buy.
Some social-media users questioned Waitrose's claims, with one Twitter user commenting: 'Assuming ITV waived [its] X Factor prime-time ad fee as well.'
Rupert Thomas, marketing director at Waitrose, said that, at a 'difficult time for many people across Britain', the supermarket felt it appropriate to use 'no snow machines, no festive glitter, just an echoey studio stripped bare of Christmas trimmings'.
John Lewis, meanwhile, is due to debut its Christmas ad on social media this Friday (9 November) before breaking it on TV on Friday on Channel 4.
A spokeswoman for Waitrose said: '[Waitrose and John Lewis] are different businesses operating in different retail environments. WeÕve simply decided the time is right for this approach for [us].'
A John Lewis spokeswoman added: 'We know that TV advertising at Christmas works for the John Lewis brand, both in terms of customer reaction and commercial effectiveness.'