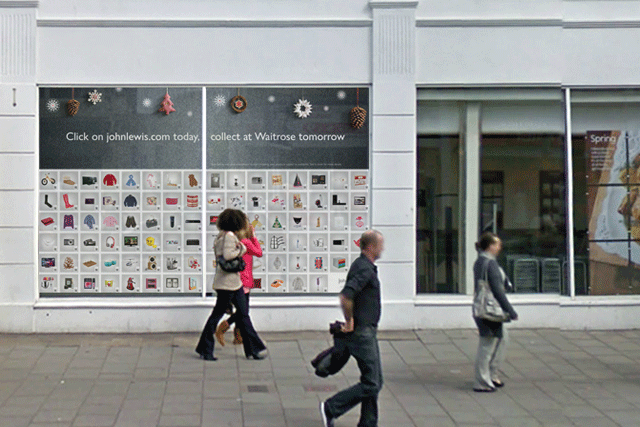 All the products in John Lewis' "top 30 favourite things for Christmas" range will be featured in the window display of the Brighton branch of the retailer's sister chain Waitrose.
The trial is initially a one-off, but if proved successful, will be rolled out to other Waitrose stores.
The initiative works by allowing passers-by to scan the QR codes for the appropriate product, which will take them to the appropriate product page on John Lewis' mobile site, where consumers can make the purchase.
Products are available to pick up from 2pm if ordered online before 7pm the previous day.
The John Lewis Partnership – the parent company of John Lewis and Waitrose – has rolled out this "click and collect" service to 129 John Lewis and Waitrose stores.
John Lewis is hoping the trial of the virtual store, which launches today (25 November), will boost the popularity of the "click and collect" service as the retailer looks to take advantage of the boom in popularity of mobile commerce.
John Lewis marketing director Craig Inglis says the roll-out of "click and collect" to Waitrose branches is proving popular and claims the "24-hour virtual shop in the heart of Brighton takes convenience to another level".
In total, there will be 96 products involved in the QR window display, including the Amazon Kindle e-reader and Hunter wellies, which appear in the "favourite things for Christmas" range.
The disclosure of the initiative comes shortly after John Lewis announced it was rolling out free Wi-Fi to all its stores, in order to allow customers to compare prices with rival stores and drive its "never knowingly undersold" proposition.
Other retailers to launch QR-code based stores include eBay, which is launching its first physical store in London at the beginning of December.
Follow Matthew Chapman on Twitter @mattchapmanuk