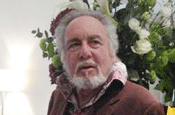 During a long industry career, he "ghosted" a large number of agency campaigns as well as writing and directing commercials for Bosch, the electronic appliance manufacturer, and Marks & Spencer.
He also acted as creative chief for Gordon Procter & Partners and had a long association with Bristol cigarettes when it was one of Britain's major tobacco brands.
Before establishing his own business, Simmons was a senior creative at Hobson Bates at a time when the agency vied with Collett Dickenson Pearce among the top 10 rankings.
One of his last appearances at an industry gathering was last year when he spoke at an IPA reception marking the 80th birthday of his long-time friend Archie Pitcher, the former Ogilvy & Mather president.
Pitcher said: "John was an iconic personality in the ad industry. He was a remarkable entrepreneur and influenced the way creative departments developed in that he was multi-talented at a time when commercial TV was in its infancy."
After quitting the business, he became an art gallery owner and is credited with nurturing the careers of a number of aspiring artists.
He was married to the artists' model Cecilia Green who often featured in the paintings of William Russell Flint.
Simmonds funeral will take place on Friday 27 February at Mortlake Crematorium at 12 noon.