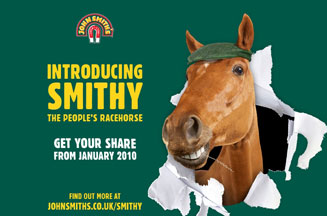 The activity is designed to leverage John Smith's sponsorship of the Grand National and its 90 sponsored race meetings across the UK.
John Smith's, a Scottish & Newcastle bitter brand, is supporting the activity with a campaign called 'Smithy, the People's Racehorse', which has been created by Space. Communication will build the persona of Smithy, allowing John Smith's to showcase the real world of horse racing.
The campaign will run across sponsorship, a media partnership, digital, mobile, in-pub communications, online and also activity at key races in the racing calendar. Specifics of other advertising channels have yet to be finalised by the brand.
Pubs, bars and clubs which sell John Smith's will be able to take part in a 'Smithy the Horse' promotion.
The campaign coincides with Smithy's first race, expected in January. Consumers who purchase a pint of John Smith's will be prompted to register to receive their share.
'Smithy owners' will have the opportunity to vote online on key decisions on his progress, such as on the meets he should race at, and will also receive regular updates on the progress of the horse.
The activity replaces the 'John Smith's People's Race' campaign which ran for three years.