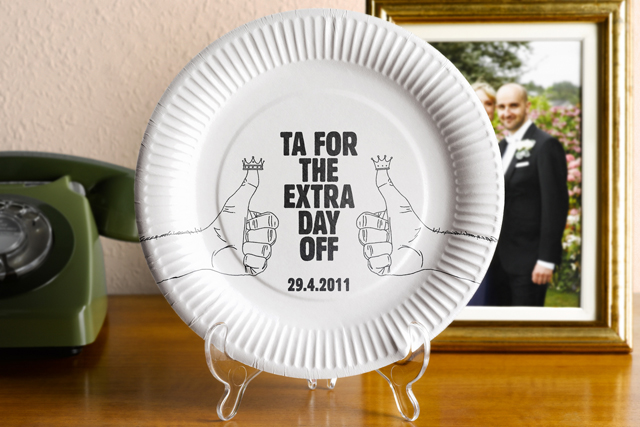 The paper plates have the words "Ta for the extra day off" printed on them, in between two raised thumbs with crowns drawn on them.
The limited edition six-inch plates, which have been created by Heineken UK roster agency TBWA/London, are being distributed to leading John Smith's-supplied clubs and bars in the brand's Yorkshire heartland.
Punters get a free plate, one of the tens of thousands being distributed, when they buy a pint of John Smith's.
Karen Crowley, senior brand manager at John Smith's, said: "We know how much Brits love a lavish bone china commemorative plate at special times like this, so we thought we'd give John Smith's drinkers a special No Nonsense souvenir plate.
"The design celebrates Prince William's marriage to Kate Middleton, whose family, like John Smith's, has strong Yorkshire roots, while giving a massive thumbs-up to the extra day off work that the nation is being given."
Catch up on the other brands linking their marketing activity to the Royal Wedding on our dedicated page.