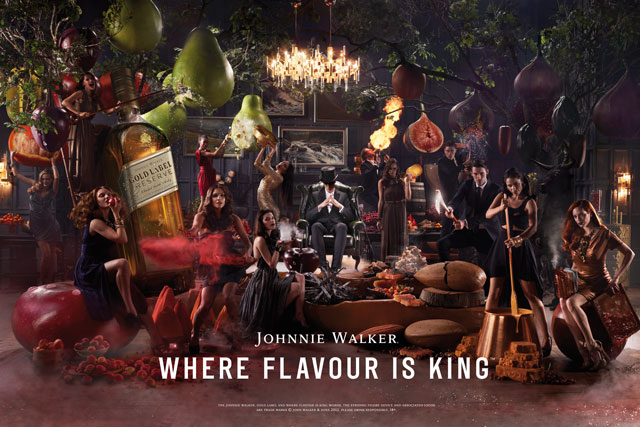 Entitled 'Where Flavour Is King', the campaign for the Diageo-owned brand aims to bring to life the craft of blending through the collection of campaign images, featuring giant fruit smashers, towers of spices, honey cauldrons and fire-breathers.

The production – led by award-winning set designer Robin Brown, Michelin star food stylist James Hayward and fashion director of GQ Style in the UK, Luke Day – required a drawing room to be built from scratch, featuring dramatic lighting, giant fruits and six feet tall bottles of Johnnie Walker.

Running on outdoor and radio, the campaign, created by ad agency Love, will also feature social media activation via a Facebook app, aimed at educating consumers on the ways to enjoy Johnnie Walker.

Gavin Pike, global brand director for Johnnie Walker, said the campaign would help drive consumer awareness of the range of tastes across the brand portfolio: "The new campaign, 'Where Flavour Is King', will open consumers' eyes to the depth and variety of flavour that exists across the Johnnie Walker whisky taste spectrum. By creating a unique image for each variant of Johnnie Walker whisky, the consumer will be able to make an instant, tangible association with the power and depth of flavour of each blend.

"For example our Red Label shot centres around spices and fresh fruit, whereas the Black Label campaign highlights rich fruits and vanilla, with the distinctive Johnnie Walker smoky finish," he added.

The campaign rolls out this month in Africa, Australia, Brazil, Japan, Russia, Taiwan and Thailand and in European markets from July 2013. It does not replace 'Keep Walking', the brand's global brand campaign which has run since 1999.