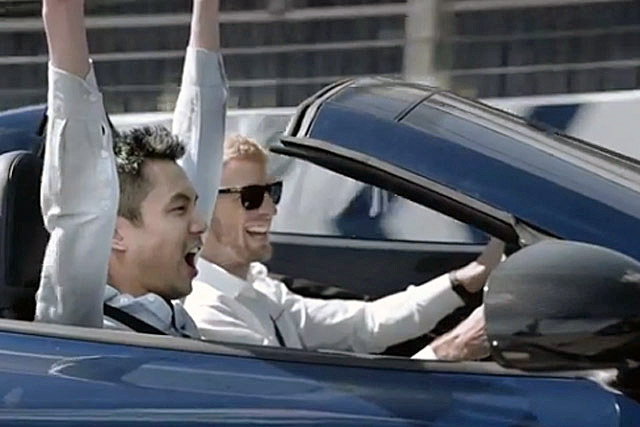 The campaign, created by Iris, is aimed at driving shoppers to point of purchase by offering the chance to win a driving masterclass with Button in a McLaren 650S supercar. The Diageo-owned whisky brand is a sponsor of the McLaren Mercedes F1 team.
The slow-motion film shows the shocked and scared reactions on people's faces as they are driven around a racetrack. Once the driver is revealed to be Button, the expressions change to exhilaration.
The film was shot at the Rockingham Race Circuit and is set to the soundtrack of 'Trust in me' by Etta James.
The in-store and digital partnership with Tesco will feature the creative concept adapted into visual assets across Tesco sites, stores and digital platforms. The initiative will roll out throughout October.
Creative direction is by Grant Hunter, with Singapore-based John Cockett and Shawn Foo as deputy creative director and head of art, respectively.
Iris' Singapore office has been delivering campaigns related to Johnnie Walker's McLaren Mercedes sponsorship since 2006.
Grant Hunter, regional creative director APAC at Iris said: "A driving masterclass with Jenson in a McLaren 650S is a genuinely awesome prize – we wanted the film to capture the visceral response the winners will experience. All in line with the Johnnie Walker "keep walking" philosophy. We wanted to create a once-in-a-lifetime experience that also delivered a unique mentoring moment."
Adrienne Gammie, global marketing manager sponsorships for Johnnie Walker, Diageo, said: "Compelling reasons to buy for shoppers at point of purchase is key for continuous recruitment into Johnnie Walker.
For this campaign we wanted to maximize our sponsorship assets to create a disruptive experience that would stand out in a retail environment (on and offline) and drive shopper to the point of purchase."