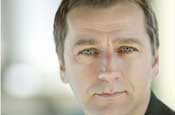 Speaking exclusively to Campaign, the former Simons Palmer Denton Clemmow Johnson founder, said: "We are looking seriously at London by year end, providing we can find the right talent here."
Johnny Vulkan, the Anomaly co-founder and former TBWA group creative director, is understood to be in the UK this week with a brief to recruit talent for the London office.
Anomaly launched in the US in 2004 after Johnson left his position as chief operating officer of TBWA\Worldwide.
The agency's first account was the Coca-Cola Dasani business. It won a design brief for the filtered water brand, later expanding its role on the account to include advertising duties.
In November 2006, Anomaly won a position on the Virgin roster, working with Virgin America on a through-the-line campaign that included cabin design duties, and the production of in-flight entertainment. As part of the deal, Anomaly negotiated a cut of in-flight sales in lieu of a fee.
The agency now has a staff of 70. In 2005, Mike Byrne, the former creative director at Wieden & Kennedy, took the role of chief creative officer following the departure of the founding creative partner, Ernest Lupinacci.